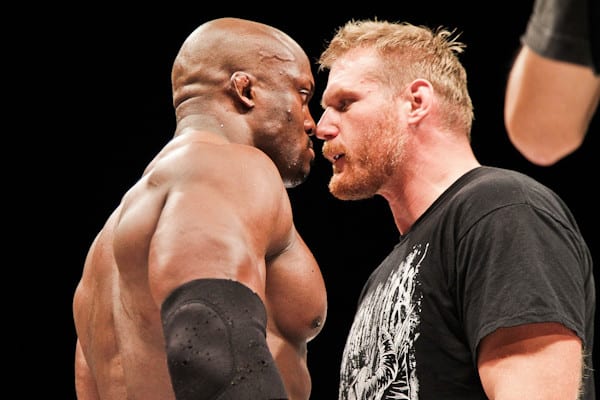 UFC heavyweight Josh Barnett is set to debut with professional wrestling promotion TNA at their tapings in Orlando, Florida, this evening.
Dave Meltzer reported the news.
It marks a curious turn of events for the UFC heavyweight, who is currently under a USADA suspension after failing an out of competition drugs test for a banned substance (which as of yet is unknown).
Barnett, who has a history of professional wrestling, is reportedly set to perform an angle with TNA mainstay and Bellator fighter Bobby Lashley. The two have worked together in Japan back in 2011.
Scoop #10: Josh Barnett challenges Lashley for a World Title Match, Lashley says in MMA there are rules, in Lashley's world there are none pic.twitter.com/CCNzC4x7t1

— Jacob Cohen (@MrJacobCohen) January 12, 2017
It also appears to be a step away from policy for the UFC, who are notoriously picky about letting athletes under contract engage in any extracurricular activities. The one notable exception was made for Ronda Rousey, who was permitted to appear in an in-ring segment at WrestleMania 31 alongside Dwayne "The Rock" Johnson.
It'll be interesting to see how the decision affects UFC policy going forth, as well as the specific details of Barnett's case. While it's plausible they allowed him to appear on TNA's show due to his USADA ban, fellow heavyweight Frank Mir has been outspoken about the lack of freedom he's been given in a similar situation.
It could also be that the UFC simply do not consider TNA a direct competitor. Either way, it's clear Barnett has found a way to explore his other passion outside of mixed martial arts.
Scoop #23: Josh Barnett defeats Bad Bones after a Northern Light Suplex float over into a Kimura pic.twitter.com/smxupLpqqx

— Jacob Cohen (@MrJacobCohen) January 13, 2017
Comments
comments