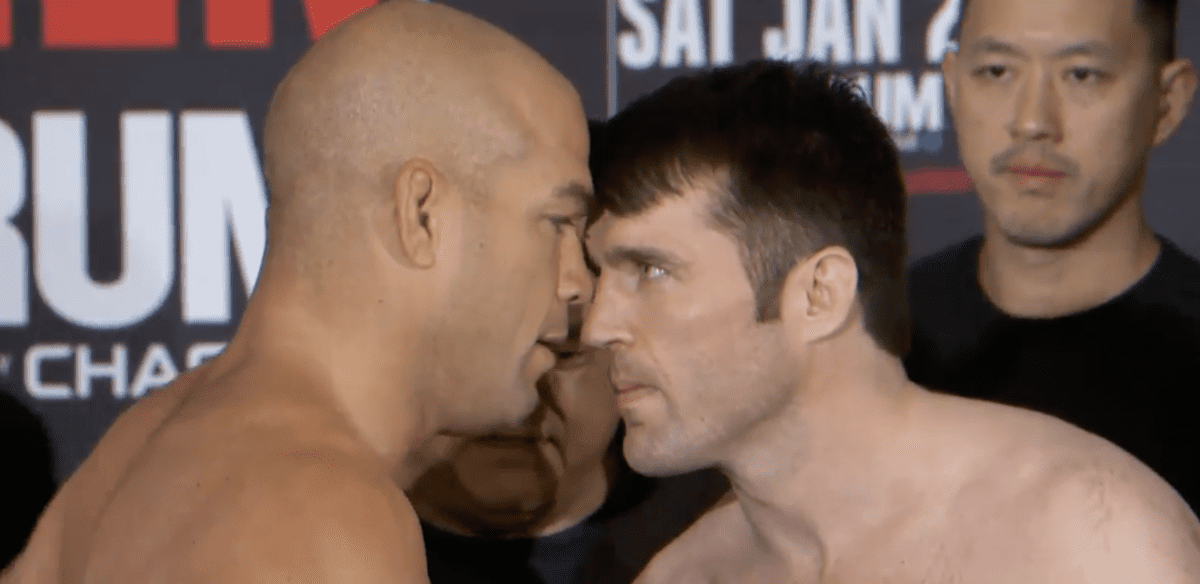 It doesn't feel like the names Chael Sonnen and Tito Ortiz were ever mentioned together, until their fight at Bellator 170 was scheduled. But, as the two scowled into each others faces this morning, the comparisons seem simple to see.
Both cocky. Both loud. And both smart enough to know that dollars spent through either supporting or loathing you were worth the same. The difference is that Sonnen is, well.. better at it. In fact, to go even further, Chael Sonnen is the outright evolution of Tito Ortiz.
Yes, in the latter part of his career, Ortiz has become a novelty act. For so long has he repeated the same declarations of being a warrior and representing fans, that it's now self-parody — a drinking game to be had post-fight. And, while Sonnen is clearly smart enough to avoid the same pitfalls, his move to a secondary promotion and future of fighting past-prime fighters drifts him closer to that category than away from it.
But think of their prime.
When Ortiz made his name smashing through the UFC's light heavyweight division and became the promotion's biggest star, Sonnen admittedly watch from afar. He (by his own admission) watched intently as Ortiz wrestled men to the floor and beat them to a pulp. He observed Ortiz repeatedly take the microphone after a fight and to fan reaction. He watched as Ortiz set a blueprint.
When Sonnen started his main run in the UFC back in 2009, Ortiz was already nearly done. Three years without a victory meant he was falling to the bottom of the pack as Sonnen found himself climbing the ladder, and the two never came close to a collision.
But it was still by Ortiz' example that Sonnen took note, improved, and built a career on. He just did it better.
Sonnen is the upgrade of everything Ortiz could offer. Smarter, funnier, and a better orator that Ortiz could ever dream of being, Sonnen has achieved a stardom that Ortiz never was able to. Even his nick name of the "Bad Guy" seemed a deliberate improvement on Ortiz' "Bad Boy."
That's partly why their bout tomorrow is so interesting. Ortiz represents the original model, while Sonnen is version 2.0. If they had ever trained together for a long period of time, it would become something from a movie script; a battle between the master and the apprentice.
For that reason alone, it's worth tuning in. A fight of the two with near matching styles and mirror images promises entertainment. And despite it being the only time the duo will clash throughout their twenty year careers, the two have actually featured on one other card together.
Funny enough, Ortiz retired that night too.
Comments
comments