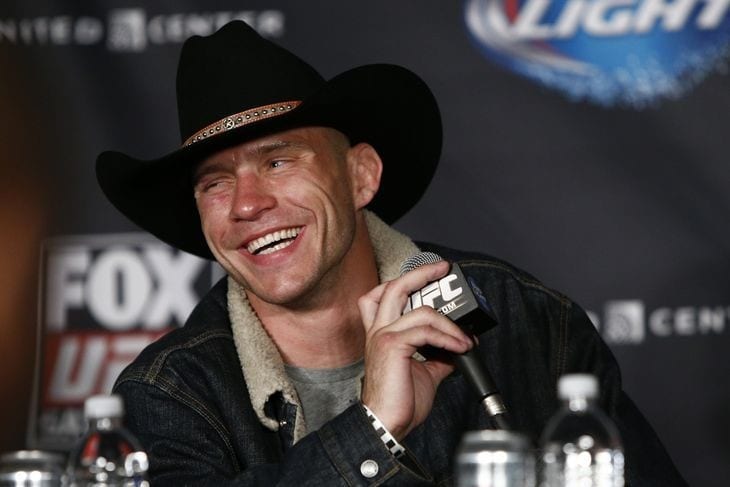 Donald Cerrone doesn't like the idea of free time. Currently set to face Jorge Masvidal at UFC on Fox 23 next weekend, just like before, he's already trying to get something pencilled in before the bell has even rung.
"I just care about keep on fighting," Cerrone said, speaking with Fox Sports. "I know they've got the [Tyron] Woodley-[Stephen] Thompson fight coming in March. I wouldn't mind getting a number one contender fight in March, also maybe on the same card and then fight the winner of those two.
"Just more about keep on fighting. I don't want to sit and wait. I just like to stay busy."
As is typical with 'Cowboy', he's only preoccupied with when, not who.
"Whoever, if I could fight in March," he said. "I know the title fight, they're going to be fighting in March so we'll have to get a No. 1 contender. Hopefully, Demian Maia will fucking want to pull the trigger and not just keep waiting or Robbie [Lawler].
"Whoever's above us. I don't even care. I don't fucking give a shit."
The Cerrone – Lawler match up would certainly have fans interested. The two were originally scheduled to face each other at UFC 205, only for Lawler to withdraw from the bout due to unspecified reasons. Since then, Lawler has yet to return to the sport since his welterweight title loss to the current champion Woodley.
Cerrone is happy to be the one to welcome him back.
"[Nick] Diaz turned Robbie down. Fucking Maia turned Robbie down. You know who didn't turn fucking Robbie down? Me," he said. "I said fuck yeah, bring that shit on. That name don't scare me none. I love Robbie but fucking come on."
UFC on FOX 23 takes place next Saturday on January 28. It takes place at the Pepsi Center in Denver, Colorado.
Comments
comments