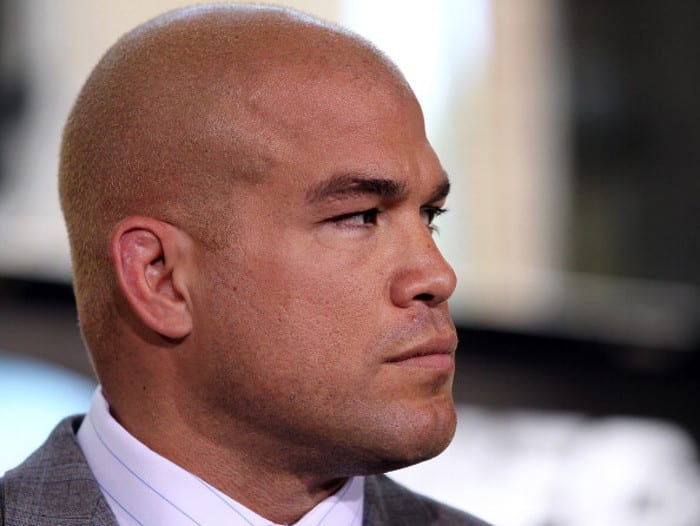 Tito Ortiz isn't happy that his last fight and victory isn't getting the respect it deserves.
After his win over Chael Sonnen via a rear-naked choke (sort of), many fans and pundits took to social media to decry the outcome as a fix, with some pointing to the ease with which Sonnen gave up as evidence to the entire affair being predetermined.
Ortiz, who had personal ill feelings towards Sonnen, isn't impressed with what he sees as a completely illogical conspiracy.
"For people to say the fight was fixed, fuck that," Ortiz said, speaking with Submission Radio. "It's just ridiculous. Are you kidding me right now? I'm gonna give 14 weeks of my life, I'm gonna miss out on a Thanksgiving, miss out on a Christmas, miss out on a New Year's to have a fixed fight? I've never been a part of that. If I wanted to do a fixed fight, I'd be doing WWE. For people to say that, that's just very disrespectful, and for fighters to say that, that's disrespectful, especially fighters that I've helped out through their career. It's just disrespect.
"I've worked so damn hard. The shit that Chael said, I hate the guy. I held on to that choke. I was trying to break his neck. I had the choke over his chin, I was still squeezing the shit out of him. I wanted to break chin. I wanted to break his neck. This had nothing to do with [being] fixed at all. I was getting paid the same amount of money no matter what."
One of the most prominent names to voice their suspicions of a fix was UFC commentator (and fighter) Dan Hardy, who tweeted "The #Bellator170 main event was more choreographed than a Brittany Spears music video. Shame really… It might have been a fun fight" following the bouts conclusion.
For Ortiz, it's exceptionally insulting.
"That's just ridiculous," Ortiz said. "It's disrespecting my career, it's disrespecting my legacy and the hard work I put in, the sacrifice I had away from my children and my family. I sacrificed so much for this fight. That's the best shape I've been in since 2006. I was shredded. I cut down from 225 [pounds] to 204.8 [pounds] in two and a half days. There's nothing fixed about anything at all."
Comments
comments