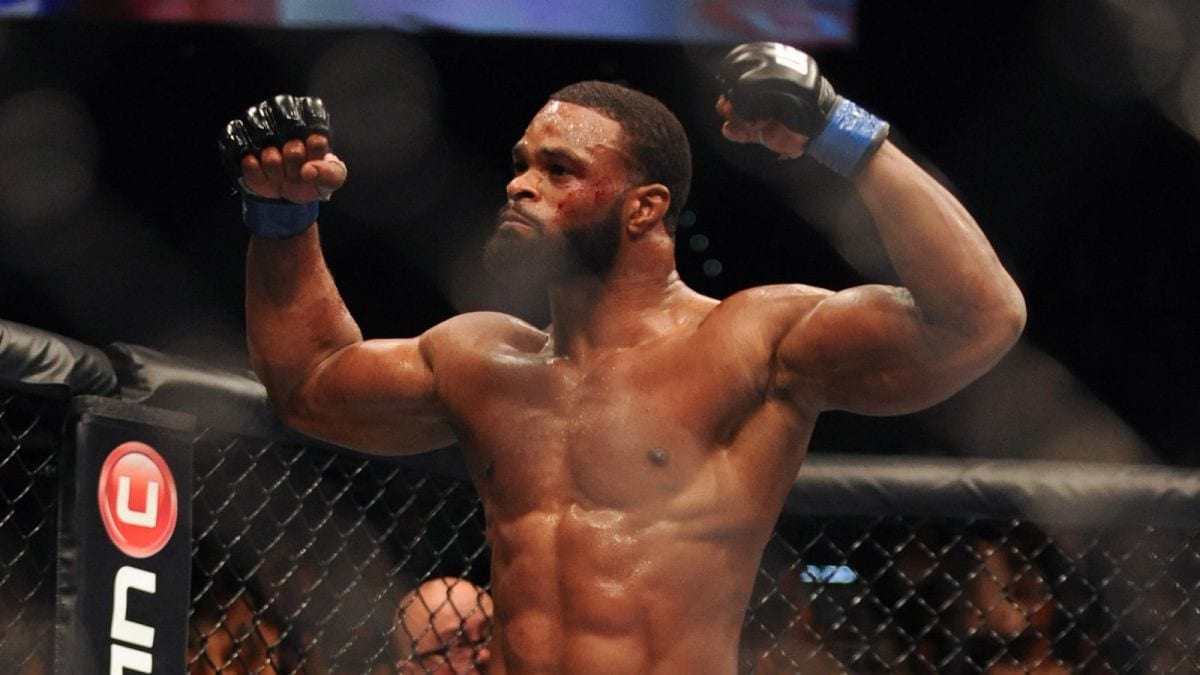 Welcome to the "In Case You Missed It" weekly round-up. Here, every Monday, we'll be taking a look at the top five stories of mixed martial arts that emerged in the last week.
Over the last seven days, we've had (as usual) plenty to discuss in the world of MMA. With unhappy fighters, legends retiring and an incredibly complicated look at the idea of race in sports; let's take a look in case you missed it.
1) Tyron Woodley raises issue of race in mixed martial arts
Well, here we go.
Earlier this week, welterweight champion Tyron Woodley and challenger Stephen Thompson went on the media rounds to hype their upcoming rematch. But, while the fight has gotten fans excited, it was a certain aspect of Woodley's comments that caught the eye of fans and pundits.
"Let's put the cards on the table," Woodley said, speaking on ESPN. "Real is real. If I was a different complexion, I think people and fans would treat me a different way.
"Some people would say that's race in the sport. The second I bring up race in the sport, I'm immediately race-baiting. But I can point out clear facts, where no other champion has been treated like me."
The issue raised, of course, is complex and complicated in ways that require far more than the odd article posted by MMA media to solve. But, let's at least attempt to examine as much of the situation as we can.
Is it fair and true to say that Tyron Woodley has been the victim of any amount of racial abuse and bias from a portion of the fan base? It would seem so. Is it also true, however, that Tyron Woodley has done things completely unrelated to race that could cause himself to be unpopular amongst the same fan base?
Well, he:
Complained (rightly or wrongly) about not receiving a title shot after Johny Hendricks withdrew from their fight, and despite not fighting himself for a significant period of time.
Defeated huge fan favourite Lawler, before proceeding to -immediately- say no to a fight with Thompson, another huge fan favourite with a tonne of hype behind him.
Began calling out names such as Nick Diaz and Georges St-Pierre, both of whom have been absent from the sport for over two years, in what was seen as a move to make the most money from his new PPV points as champion.
Complained about not getting enough respect as champion, despite never acknowledging it could have been because of his own behaviour.
Won fan respect back at UFC 205 after a great performance… only to immediately shun it away by calling Thompson entitled, and seemingly denying the popular idea of a rematch.
So, that seems a yes too.
It's because of those reasons that Woodley being the figure to bring up this problem, seems to raise the hackles of fans before the conversation can even be held. There are so many things the 170-pound champion has said and done that can be pointed at as justifiable reasons for why fans may not take to him, that any time he begins to discuss the concept of a race problem in sports, many disregard his statements.
But, in fairness to Woodley, that doesn't mean he can't be right as well. It seems highly unlikely, for instance, that his Twitter mentions are a racially sensitive paradise.
So where do we go from here? Well, perhaps Woodley may not be the perfect figurehead for this discussion, but the very fact its been raised is a positive. Perhaps exposure alone will get fans exploring the idea, and we can all slowly progress through the issue, if there is one, together.
No matter what, however, with Woodley booked on Ariel Helwani's show The MMA Hour tomorrow, and a public promise that he would be revealing some hidden truths; this topic won't be going away just yet.
@arielhelwani @MFG16 @ChrisWeidmanUFC @sagenorthcutt @TimKennedyMMA @panteraufc I'm blowing the roof off! This will be you most controversial and most listened to episode! #PROMISE

— Tyron T-Wood Woodley (@TWooodley) January 22, 2017
2) Stipe Miocic voices anger at UFC contract
It seems like it's been a while since a UFC athlete has voiced concerns with their current financial compensation from the organisation.
Well, cue heavyweight champion Stipe Miocic.
The Cleveland, Ohio, native appeared on The MMA Hour last monday and revealed that he was far from impressed with the reports that contender Alistair Overeem had been paid more than he had as champion.
"Terrible. Things definitely need to change," Miocic said of his current contract on The MMA Hour. "Something's got to change. It's not really fair. They gave the contender more money. It's just a mess right now.
"I'm definitely not being unfair. I'm not asking for a couple million [dollars] or anything like that, but definitely asking to get compensated for winning the belt, defending the belt in my hometown. And also, the [challenger] making more money than me.. it's just unheard of, it's terrible."
It was reported post-fight at UFC 203 that Overeem had walked away with a disclosed purse of $800,000. In comparison, Miocic the champion (and the hometown hero) earned a disclosed $600,000. While it's important to note that the UFC often gives its champions a slice of the pay-per-view revenue, it's clear that Miocic feels sufficiently unhappy to voice concerns — particularly compared to his usual quiet manner.
3) Tito Ortiz defeats Chael Sonnen and retires on a win
There were a lot of stories going into Bellator's main event on Saturday night.
Chael Sonnen was returning from a prolonged (and enforced) absence from the sport to face Tito Ortiz, a man who was about to walk away for good. As such, it was hard to imagine how the fight was going to look.
Well, despite a brave face and a logical spin, there is no denying Sonnen looked poor.
The two came out firing early on, and after Sonnen went for a choke that wasn't really there, Ortiz managed to swiftly turn the tide, gain control himself and apply a neck crank/choke/squeeze thing and force his opponent to tap.
The ending garnered plenty of attention online, and the cries of "fix!" began to roll in, with various videos of supposed signals from Ortiz to Sonnen emerging. But, strange as it may have looked, it could well be possible that a 41 year old fighting a 39 year old doesn't look all that… well, good? Besides, why would anyone involved (save Ortiz) want a Sonnen loss?
Despite all that, there are some positives to take. Legends of mixed martial arts don't tend to leave with the word 'victory' being the last input on their record. For Tito Ortiz — a pioneer and early star of the sport — to defeat Sonnen and to walk away from the game with a win gave those watching a perfect ending to a iconic career.
4) Nate Diaz moves to gain a boxing license
When Conor McGregor received a boxing license last year, eyebrows were raised. When Nate Diaz did the same this week, the eyes beneath them widened.
Because, it appears the Stockton native is in the process of being licensed as a boxer in the State of Nevada.
"Nate paid his fine and has requested a boxing license," NSAC executive director Bob Bennett said, speaking with ESPN. "Upon his submission of the required licensing information, we expect to approve his license as of this date. We welcome Nate and his older brother, Nick, to fight in Las Vegas, whether it's with the UFC or a boxing promoter."
While Diaz himself has remained mum on the topic, it's hard to take the move as anything other than a direct message to his old rival McGregor.
5) Tim Kennedy retires from mixed martial arts
Earlier this week, perhaps to slightly less fanfare than the retirement of Ortiz, Tim Kennedy announced he too would be walking away from the sport. While Kennedy may never have won the titles or carved a legend in the same manner as Ortiz, his leaving still warrants attention — particularly with what could be coming next.
Kennedy is a major part of the fighter association MMAAA, and has made it clear that he fully intends on pushing the idea of fighters having better representation. In an emotional Facebook post announcing his retirement, Kennedy wrote:
"I am committed to growing our sport and taking care of those who are a part of it. As sad as it is for me to walk away, the only thing sadder would be for me to stay because I had no other choice in order to feed my family. Someday the Kelvin Gastelum's and the Yair Rodriguez's and the Paige VanZant's will be sitting in their respective emergency rooms with their respective [coaches] talking about it being over. And when that day comes, I want to make sure their future is secure."
Kennedy retires with a record of 18-6. He has notable wins over Michael Bisping, Rafael Natal and Robbie Lawler.
Comments
comments