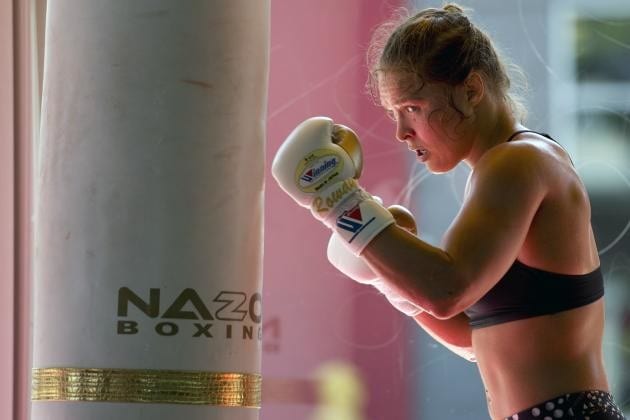 When Ronda Rousey lost to Amanda Nunes at UFC 207, it happened in much the way her previous defeat to Holly Holm did (albeit much quicker). On both occasions, Rousey repeatedly ran directly at her opponent, with her head on the centre line unmoving.
The behaviour, a worrying sign of a lack of striking technique, resulted in her being dismantled via punches both times.
And, according to a former sparring partner of Rousey's, former WBC champion Diana Prazak, it's something the Olympic Judoka should have seen coming.
"She was stiff, she's not a striker, and you don't punch a puncher," Prazak said, speaking with Sky Sports. "She's not a boxer, that's not something you pick up in a couple of months."
Prazak and Rousey actually sparred together in the lead up to the former bantamweight champion's contest with Holly Holm, who actually fought Prazak back in Holm's boxing days. But, according to Prazak, once the Holm fight was signed and confirmed, Rousey's coaches put an end to their working together — even despite Prazak and Holm's former contest.
"I started working with Ronda over two years ago but, but when she was going to fight Holly Holm, they stopped me being her sparring partner," Prazak said. "You would have thought [I was the perfect partner]," she said. "Our spars were always battles, they were harder than the fights she was having. We had great sparring; she was getting better.
"My opinion? It wouldn't have been good for her confidence to keep sparring me, and not being successful. Edmond made that decision. She isn't a striker."
Rousey's ability as a striker have long been contested. Her coach Edmond Tarverdyan, who is often seen holding mitts for his pupil once said on record that Rousey was consistently dropping world class boxers in sparring with body shots.
Not that that's a story Prazak is ready to back up.
"He was talking about me," Prazak said. "My trainer rang him to say 'why would you make that up?' It's an untruth. I hope she comes back with a totally different team around her who look after her safety."
Comments
comments