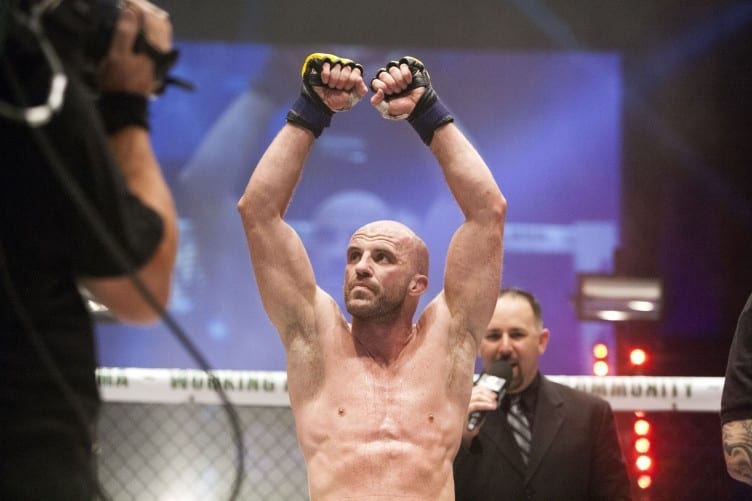 Peter Queally is back in the win column.
The SBG fighter won an impressive decision over the hard-hitting Decky Dalton at Cage Legacy Fighting 1 in Drogheda on Friday night. Queally was given the nod by the judges after three hard fought rounds in the main event, going some way to overcome the disappointment of falling short against Joe McColgan at Bamma 26 last month.
In what is already being regarded as one of the best MMA contests to take place in Ireland in 2016, both Queally and Dalton had their moments throughout the three round fight with 'The Showstopper' ultimately awarded the unanimous decision by the judges.
Queally dominated the first round of the fight, with Dalton being forced to fend off numerous submission attempts from the SBG fighter as he struggled with Queally's high-tempo pressure in the opening frame. Dalton rallied in the second, seeing some success with strikes and opening up a cut on his opponent before Queally reasserted his dominance in the third round and was awarded the win by a score of two rounds to one.
It was all out war last night but The Showstopper is back!Thanks to my team, parents and family. Respect @DaltonFAI_MMA ,you are an animal. pic.twitter.com/k6WdiRUPpz

— Peter Queally (@peterqueally) October 29, 2016
Decky Dalton vs Peter Queally was one of the best fights I've had the pleasure to witness live in the last while #allaction
#CageLegacy

— Gary Doyle (@gdoyler) October 28, 2016
Queally has been on the UFC's radar in recent months and only Visa issues nixed the Irishman making his debut for the world's biggest fighting organisation in August. This win, Queally hopes, will put him back in the frame for an eventual fight inside the Octagon.
Speaking to TheMacLife.com earlier this month, Queally said that he hopes an impressive win against Dalton would go some way to opening that door to the UFC one more.
"This fight is three weeks before Belfast so if I go out here and have a big win I'm back in contention", Queally said.
"[The UFC] don't owe me anything. There was nothing even said, to be honest. It just made sense that if I had won [my last fight] that I would have been on the Belfast card in my head – and probably in their head."
With the UFC Belfast card already having suffered injury dropouts in the main event and co-main event, it would make sense to many to have a sizeable roster of Irish fighters competing. And with last night's win, Peter Queally has put himself towards the front of the line.
Comments
comments