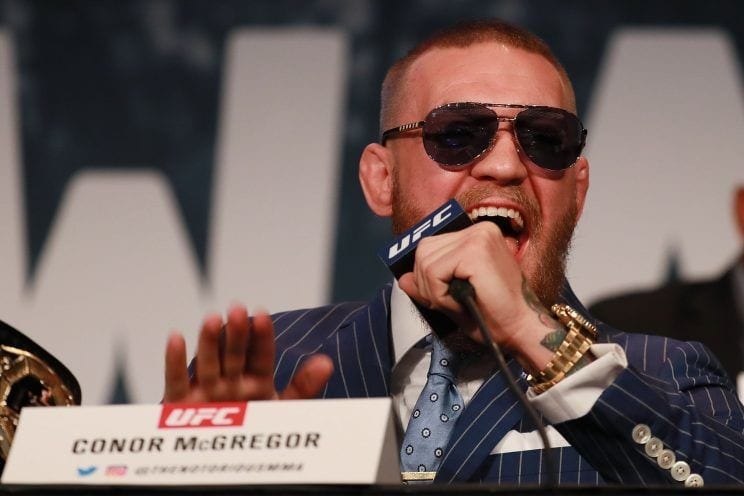 Conor McGregor's midas touch continues.
UFC 205, which is headlined by Conor McGregor's clash with Eddie Alvarez for the UFC Lightweight title, is trending to be one of the most successful combat sports events in history.
Speaking on Fox Sports 1, UFC President Dana White revealed that UFC 205 has already broken the all-time gate record at Madison Square Garden — the world's most revered fighting arena.
.@ufc President @danawhite joined the Game 3 pregame show to discuss #UFC205, #CLEvsCHC & of course @PeteRose_14. https://t.co/otCsHJWIqx

— FS1 (@FS1) October 29, 2016
"We've been in all the biggest and best arenas all over the world – Madison Square Garden is a big deal", White explained.
"All the legendary fights that have been held there, all the legendary events and we actually broke the gate record for Madison Square Garden. So far, so good. I'm excited."
Up until now, the gate record for Madison Square Garden was set in 1999 with a boxing match between Evander Holyfield and Lennox Lewis which drew takings of $13.5 million at the door. The UFC's own gate record of just over $12 million was set at UFC 129 when more than 55,000 people paid in to see Georges St-Pierre defeat Jake Shields in his native Canada.
If White's forecasts are accurate, smashing both the Madison Square Garden and overall UFC gate numbers is another dual-record that McGregor can lay claim to.
When the UFC successfully lobbied to legalise the sport of mixed martial arts in New York after more than eight years of trying, White said that they intention was to bring the best possible fight card to the Big Apple and having Conor McGregor at the top of the bill was a no-brainer. The biggest events need the biggest fighters.
"Obviously it's our first time getting into MSG and it's been such a big deal getting there [that] I wanted to make sure when we went to New York, we delivered", said White. "Three incredible title fights, plus the rest of the card is packed with ridiculous fights including the main event and co-main event on Fox Sports 1 for the prelims."
And as for having Conor McGregor headline the card in his pursuit of history? A win will see McGregor break entirely new ground in the UFC by being the first person in history to hold two championship belts at the same time. While Dana White and his biggest draw have had well-documented differences of opinion this year, he still realises exactly what it is that McGregor brings to the fight game.
"All the antics and other things aside, Conor McGregor will step up and fight anybody, anywhere, anytime. I've never been in a situation where somebody pulls out literally the week before a fight and he does not care who he fights. Never been in that situation."
Comments
comments