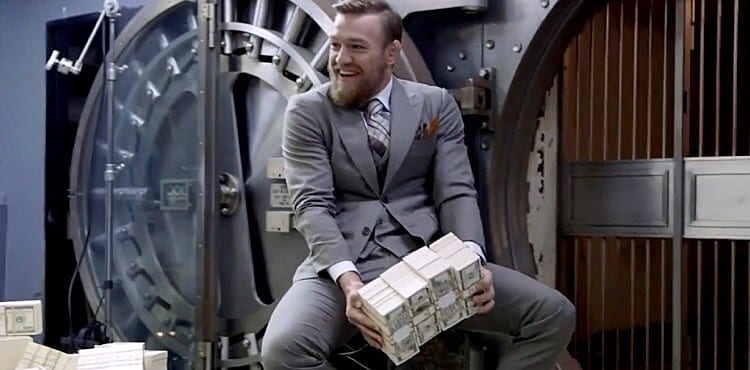 There's a case to be made for the rivalry between Conor McGregor and Nate Diaz being among the most important in MMA.
Over its history, mixed martial arts has seen several high profile feuds between fighters translate to big bucks at the box office. The heated between the likes of Ken Shamrock and Tito Ortiz, or Randy Couture and Chuck Liddell, helped the sport flourish at a time when MMA, or more particularly the UFC, was rebranding itself from niche entertainment to mainstream sport.
The difference, though, is that those fights took place well within the accepted infrastructure of the UFC's pay scale and, as great as they were, they came at a time when fighter pay wasn't what it is (or can be) now. Those rivalries served to underline the idea there was money to be made in this sport but, over time, many athletes would come to question the discrepancies in what they were getting paid, compared to what the UFC was making off their backs.
That changed with Conor McGregor.
Even in his relatively short tenure in the UFC to date, no one has made the same kind of impact that McGregor has made over these last three and a bit years. Ever since he was introduced to the UFC with his "60 G's" knockout of Marcus Brimage, McGregor has talked numbers, predictions and, as he calls it, "big business".
And that big business doesn't only involve McGregor, it also affects the person standing opposite him in the cage. The term 'Red Panty Night' has become part of the vernacular of MMA since McGregor used the phrase to illustrate that he's the biggest money fight in the sport. This is acknowledged by many of his fellow fighters too, judging by the sheer number of opponents across three different weight-classes who try their best to have their name listed across from McGregor's on a fight card.
When Nate Diaz was called in as a short notice replacement for Rafael Dos Anjos against McGregor earlier this year he made sure that he got his own slice of the pie. After years of complaining about his anaemic paychecks from the UFC (Diaz received just $40,000 for his previous fight, a win over Michael Johnson) the very fact that he was drawn with Conor McGregor allowed him to negotiate his pay to $500,000. For the same fight, McGregor was the recipient of the first ever $1 million purse in UFC history,
For their rematch at UFC 202 Diaz upped the ante and accepted $2 million to fight. McGregor, not to be outdone, was paid another record sum: $3 million. The UFC began this calendar year having never paid anyone a seven figure sum to compete. By the time UFC 205 rolls around, they will have surpassed a million dollars in pay on four separate occasions.
Over the course of his run in the UFC, Conor McGregor has torn up the accepted pay structure of the UFC and in doing so has raised that glass ceiling for future fighters to take advantage of.
This is a point which Light Heavyweight contender Anthony Johnson agrees with. When asked by Ultimate MMA about Conor McGregor, Johnson was insistent that the SBG fighter's success has opened the door for a lot of his fellow fighters to step through.
"Conor earns every penny that he gets; every cent, every dollar", Johnson said.
"I take nothing away from him – get it while you can. Our careers in this sport are pretty short. They can end in a split second. Some people deserve it because they sell the fight and do all the talking, and some people don't," he added. "I think Conor has helped out everybody to get better paid."
"Hopefully everybody goes up, up on the ladder when it comes to pay. If they can shell out that much money [to him], then everybody deserves a raise."
https://www.youtube.com/watch?v=WymijyLYfps
Comments
comments