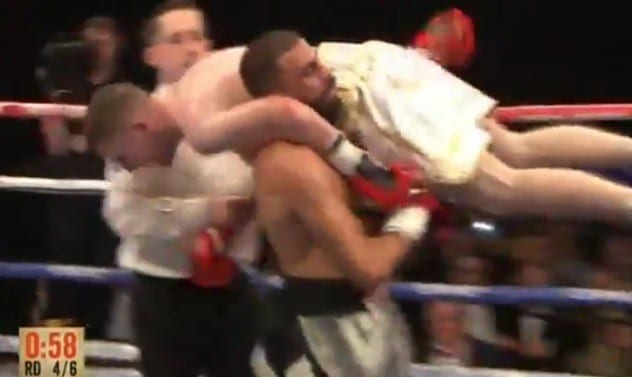 Ireland's Olympic boxing medalist Paddy Barnes has won his professional debut in Belfast in unusual fashion after his opponent lifted Barnes off his feet and hoisted the Irishman up on his shoulder.
Bulgarian opponent Stefan Slavchev was disqualified immediately by referee Hughie Russell Jr. for the incident which occurred in the fourth round of the contest which was slated for six.
Barnes, a flyweight who won bronze for Ireland in the 2008 and 2012 Olympic Games, was on top throughout the fight. Slavchev was unable to mount any real offence of note and instead resorted to attempting to stifle and frustrate the Irishman.
Terrible debut last night, welcomed to the pros the hard way, easy win but couldn't perform against a clown! Support was amazing!!!!! 👍 pic.twitter.com/vEDCwZosfM

— Paddy Barnes (@paddyb_ireland) November 6, 2016
The Dubliner complained of a less-than-ideal build-up to the fight, saying that family issues hampered his preparation.
"It's been tough, I haven't really been able to train properly, but it was an easy enough four rounds", Barnes said after the disqualification. "I'm just glad to get it out of the way and I can focus on bigger things next year. I want to be fighting big names."
Barnes is expected to fight on the Madison Square Garden card next March which will see the professional debut of Ireland's Michael Conlan in the main event.
Watch the disqualification from last night's contest here.
Comments
comments