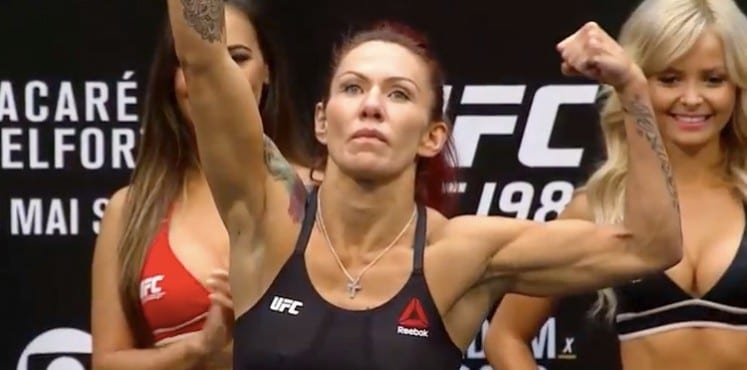 Cris Cyborg is done with dangerous weight cuts.
The featherweight, who is often seen walking around at over 170-pounds, has controversially been making appearances in cut-weight bouts at 140-pounds, despite the obvious unhealthy nature of doing so. The motivation for shirking so much weight, Cyborg says, was to appear in the UFC — MMA's premiere promotion.
Now though, the Brazilian says she has no interest in undertaking the whole process (which at one point even had her taking birth control to alter hormones) again.
Unless of course, a certain Ronda Rousey becomes available.
"Really if Ronda really wanted to fight me, she would've already did it," Cyborg said, speaking with Submission Radio. "[But whether or not] she wins or loses her next fight, she's not going to fight me. This I already know. She doesn't like challenging herself. If she loses, she's going to retire. Even if she wins, she will say, "you have to come to the champion," and she'll be saying the things that she said before, you know, because she's not there to challenge for big fights.
"You know, she chooses her opponent and I don't think this fight's going to happen. I know Dana White said, 'Oh Ronda wants to fight really bad'. If she really wanted this fight really bad, it would have already happened, people would've already watched the fight. I don't believe one word of this. She didn't even say my name. Before, she was all the time saying my name, that she wants to fight me, 'Oh Cris Cyborg'.
"Now she doesn't say my name because we're in the same organisation. She knows if she says my name, this fight's going to happen. She's avoiding me and not saying my name. She's telling reporters "no questions about Cyborg, because if you make questions about Cyborg, I'm not going to answer you and you'll be out of my list of reporters" and then she plays this game. I don't think this fight's going to happen."
Despite the fact that Cyborg has long campaigned for the fight with Rousey, after two hugely successful appearances in the UFC, she now feels as if she's proven a point that she doesn't need the Californian to be considered an icon in the sport.
"I don't think I need Ronda to change my life or anything," Cyborg continued. "Because everybody says, "oh, you need to fight Ronda," no I don't think I need her to change anything. I think people have followed me for a long time. My last fight, a lot of people watched in Brazil, 30 million people watched.
"In America, 1.3 million people watched my fight. People want to see Cyborg. Of course, if this fight with Ronda happens, fans would like to watch it and it would be the biggest pay-per-view ever in the UFC. If it doesn't happen, it's not my fault. I already proved it, I already made 140 (pounds). Everybody knows I would like this fight. If it doesn't happen, it's not because of me."
With large numbers being drawn, Cyborg feels she should no longer be obligated to drop the major weight in order to be able to appear in the UFC, especially with the calibre of opponent she's been scheduled against as of late.
"You know, the first time I made 140 in Brazil, Curitiba, the first time I did it was because it would be in my city," Cyborg said. The main thing is to do is open an opportunity, maybe to do super fight with Ronda Rousey at 140. And I just showed them that I can make 140 for a super fight. And my second fight was supposed to be 145, I was supposed to be to defend my belt. And then again, I had the opportunity to fight 140 in Brazil.
"I really respect all my opponents, but the girl in my last fight (Lina Lansberg), nobody knows her, and she's had like 70 Muay Thai fights. She's a really, really good opponent, but for me to sacrifice to make 140, I'd like a super fight. You know, something the fans would like to watch. Because my last opponent, her last win was at 145 pounds.  And then sometimes, I don't see it's worth making 140 to make a fight like this.
If you want a super fight, doesn't matter the weight — It can be 150, can be 155, 145. But the thing is, I cannot kill myself at the time to make 140 for a normal fight."
Comments
comments