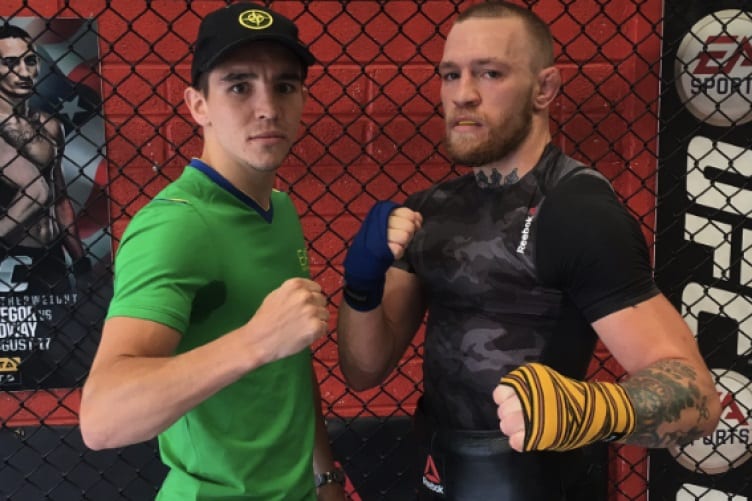 A lot is expected of Michael Conlan in the professional ranks.
The Irishman, considered by many to be one of the finest boxing talents ever produced by his country, will step into the pros for the first time in March and he already has his sights set on multiple world championship across different weight divisions.
Sound familiar? It should. Much like Conor McGregor, Conlan's ambitions inside the boxing ring far eclipse that of many of his peers. As if to harness some of McGregor's experiences, Conlan has asked the first ever simultaneous two-division UFC champion to accompany him to the ring with the Irish tricolour on March 17th — an offer which has been accepted by McGregor.
Conlan will face Tim Ibarra (4-4) in his professional debut and, according to Conlan, this is just the first step on the Belfast man's road to championship gold.
"The journey is going to be a good one. I'm planning on winning titles in the super-bantamweight division, the featherweight division and the super-featherweight division," Conlan said.
"I truly believe in my ability. I feel like I'm a fighter who speaks with complete confidence at all times. No matter who is in front of me, no matter what day it is, no one is going to beat me.
"With Top Rank [Promotions] and Matthew Macklin behind me, we're going all the way to the top."
"Come March 17, it's going to be special. The debut is going to be something else. The entrance and everything that is going to happen is something you haven't seen before.
"It's a dream for me coming here. I still feel a bit overwhelmed being here in the Garden. For my debut to be here on St Patrick's Day is going to be something really special."
Conlan hasn't been seen inside a boxing ring since his hugely controversial elimination from the Rio Olympics to Russian Vladamir Nikitin, after which Conlan alleged corruption and vowed never to fight in the amateur ranks again.
Conlan's Olympic teammate Paddy Barnes is expected to compete on the same card, while Katie Taylor will fight on the undercard of the Gennady Golovkin vs. Daniel Jacobs contest on March 18th in Madison Square Garden.
https://www.youtube.com/watch?v=jUMA2SdFlzA
Comments
comments