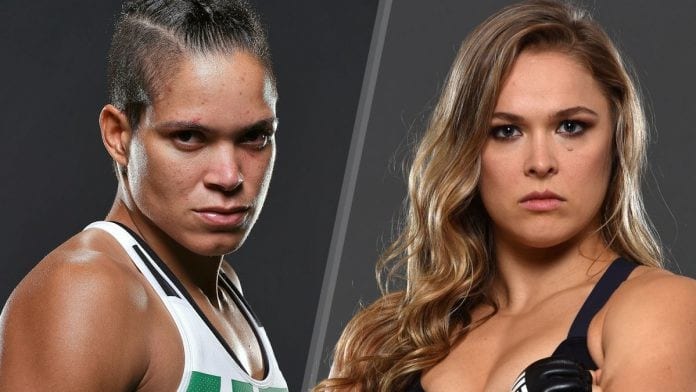 Given Ronda Rousey's dominance through the first twelve professional bouts of her career, it must be considered strange to most observers that the former women's 135-pound champion has appeared so listless in her two most recent fights with Holly Holm and Amanda Nunes.
Rousey surrendered her title in November 2015 when she succumbed to a prolonged beatdown by challenger Holly Holm before being dispatched via second round head kick knockout.
Rousey's quest to regain the title which now rests on the waist of Amanda Nunes ended just 48 seconds into the first frame in one of the most one-sided title fights in UFC history.
Where now for the former undisputed queen of women's mixed martial arts? According to her conqueror Amanda Nunes, Rousey should switch gyms, refocus her training and come back stronger.
"I already passed this moment in my career", Nunes said to Fox 11 News. "It's hard to lose but if you be strong, you'll be able to come back like I did. Make some changes, adjust. The passion in her life, the family has to be with her. The base is very important. Make some changes in her camp, move to another gym and come back strong."
While it is still up in the air if Rousey will ever return to mixed martial arts competition, one thing for certain is that Amanda Nunes plans to emulate Conor McGregor by becoming a two-division world champion.
Holly Holm and Germaine de Randamie will soon contest the first ever UFC women's featherweight championship — a title which Nunes has her eye on next. Given that Nunes already holds a victory over de Randamie and won her title from Miesha Tate, who in turn dispatched of Holm, the 'Lioness' feels confident in her chances at achieving UFC history.
"I want to do the same [as Conor McGregor]. It's exciting for the fans. I think it's interesting for the company too. It's never happened in the UFC, in the women's division. I think I want to make history, I want to make this exciting for the fans. I want to move up."
Comments
comments