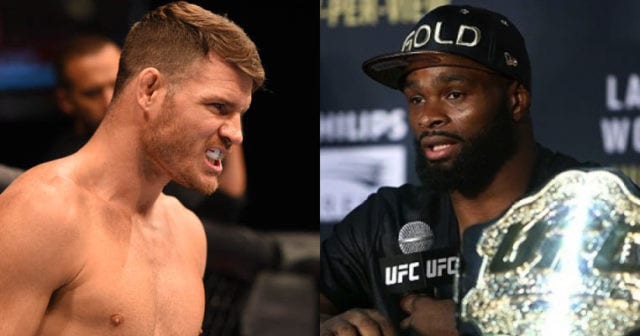 Last week, two champions in Michael Bisping and Tyron Woodley had a face-to-face meeting and verbally agreed on video to a catchweight bout at 180-pounds. While the moment got a slight amount of traction in MMA circles, no member of the UFC brass responded.
Today, while Bisping was hosting his SiriusXM radio show "The Countdown", welterweight champion Woodley called in and attempted to stoke the fires a little bit with some more verbal back and forth. Bisping, unsurprisingly, was happy to oblige.
"Ever since you've become the champ and you've skimmed it through and got a draw in your last fight, you think Lady Luck is shining down on you," Bisping said to Woodley. "Don't believe everything people say to you, Tyron, because people kiss the ass when you're a world champion. But I've been round long enough to know that it's all bullshit, so don't believe everything your team — all your little yes men — everything their telling you, it ain't true. Because I'll do to you what fucking Nate Marquardt did to you; beat the fuck out of you buddy."
https://soundcloud.com/siriusxmrush/tyrone-woodley-talks-smack-to-michael-bisping-on-the-countdown
"So what's going to happen when you walk forward," Woodley replied. "And I hit you and you realise; damn, this dude hits hard?"
And while the talk between the two remained jovial for the most part, there did seem as if there were times when both mens patience was wearing slightly thing. After comparing each others abilities and who have the better fight records.
"It's getting a little bit personal, but at the end of the day I've got a lot of respect for you, I've worked with you on Fox, you're cool," Bisping said. "But fuck it, I've got no problem punching you in the face — real hard — and then proving to you that I'm just the better man."
"People think we're staging it, they don't know," Woodley responded. "Text [Dana White] and tell him we're serious."
Comments
comments