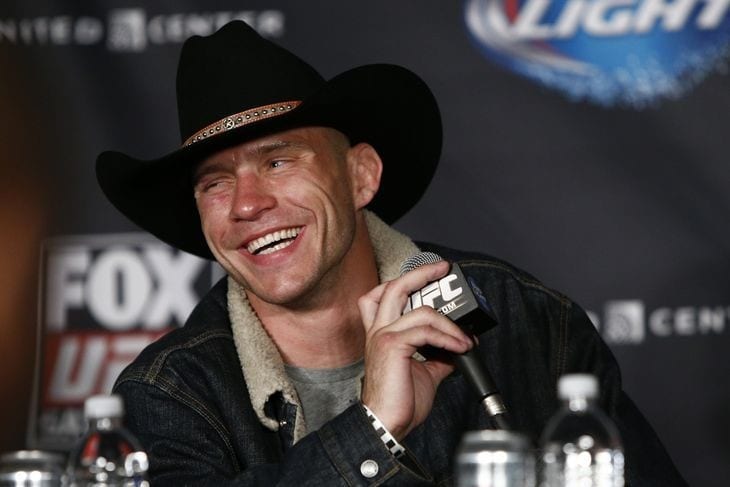 On January 28th the UFC returns to where it all began.
Denver, Colorado, was the site of the first ever UFC event all the way back in 1993 and the promotion returns there once again in January 28th for a UFC of Fox card to be headlined by a women's bantamweight scrap between Valentina Shevchenko and Julianna Pena.
One more connection the Mile-High City shares with the UFC is that 33 years or so ago, it was the birthplace of welterweight contender Donald 'Cowboy' Cerrone and, as Cerrone told a local television station, he wasn't going to miss the opportunity to fight in front of his kin.
"When I heard that [the UFC] was coming home I told Dana White, 'I have to fight in the Pepsi Centre. I have to go home and do what I love'", Cerrone said.
Cerrone, one of the most active fighters in the UFC, will face Jorge Masvidal on the main card of the event and it comes just a few weeks removed from his last bout, a third round headkick knockout of Matt Brown at UFC 206. Given the brevity between those two bouts, Cerrone certainly doesn't have any trepidation about returning to the cage so soon.
"I feel like a wolf among the sheep. As clichéd as it sounds, it is what I was born to do."
As for Masvidal, Cerrone doesn't see anything that he thinks will trouble him. Given that he is 12-1 in this last thirteen bouts, 'Cowboy' has learned to deconstruct his opponents to the sum of their parts and doesn't think that Cuban export Masvidal will cause him many problems. After that? He wants Tyron Woodley.
"He's a good wrestler and he's a good striker/boxer, but he's not real great at anything", Cerrone explained. "I'm better than him everywhere. I'm going to go out there and put on a show for the home town crowd. Then in March, keep it rolling. I want to fight Woodley in March. That's the plan."
Comments
comments