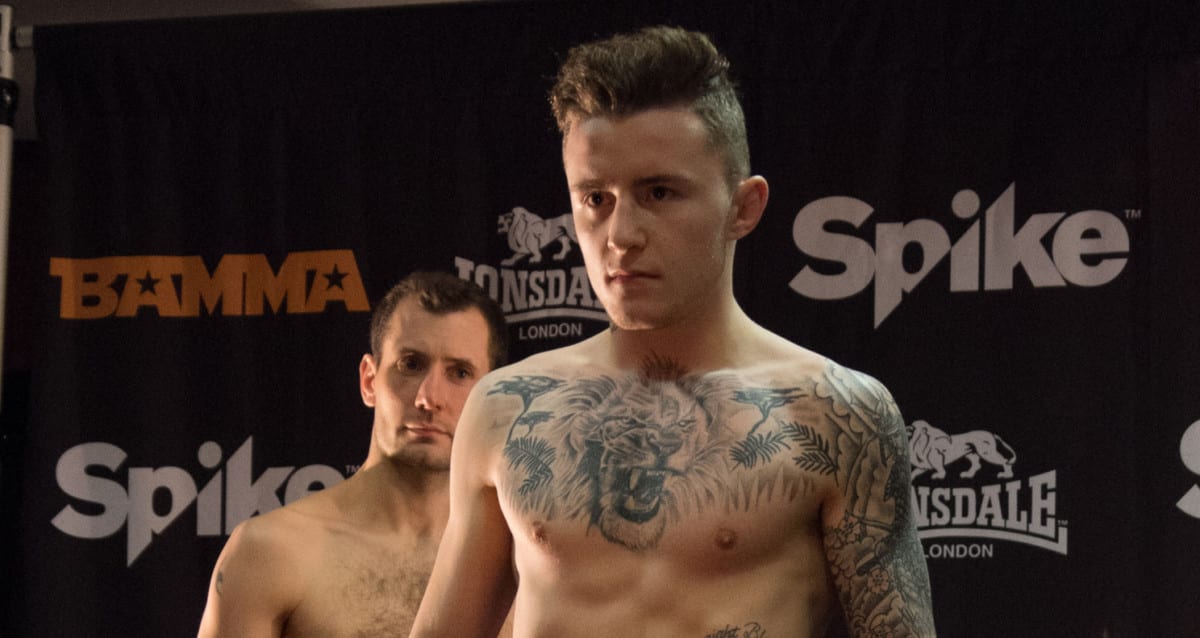 Unbeaten Irish featherweight James Gallagher (5-0) will face Israel's Kirill Medvedovsky (7-3) in the co-main event Bellator 173 inside the SSE Arena in Belfast, Northern Ireland, on February 24th it was revealed today.
The news was first reported by Newstalk's Peter Carroll.
Gallagher was initially intended to face Medvedovsky last November in Israel but the Irishman was swiftly moved to the co-main event of Bellator 169 in Dublin when that event was announced but now Gallagher will get his chance to face Medvedovsky in Belfast, less than 100 miles away from his hometown of Strabane.
Given that this is the second time that he has been paired with the Israeli, Gallagher is aware of his strengths but, like so many of his SBG Ireland teammates, prefers instead of focus on perfecting his own craft rather than assessing his opponent's strengths and weaknesses.
"I watched a few things that he likes to do, a few things that he always reverts back to", Gallagher said to TheMacLife.com. "Not much though, I just focus on me and do my training and do what I do.
"He's a brown belt. Apparently he's the best jiu-jitsu guy in Israel but we'll see who's the best jiu-jitsu guy in a few weeks.
"I'm riding a good wave now. I'm not focusing on it too much, though. If I just show up [to the gym] every day and forget everything about the rest, then it's not going to stop. Every day I see the improvements. I'm getting better and better. I feel like every fight I go into I've got something new every time to bring to the table.
"Especially because a lot of the guys that I fight, they're all older and they've got a few years on me but I feel like I've got the experience on the mat over them. I feel like I put in more work than them and I've got that experience."
The clash with Medvedovsky will be Gallagher's third with Bellator since signing with the promotion last year. He was most recently seen submitting Anthony Taylor with a third round rear naked choke at Bellator 169 in the 3 Arena in Dublin last December.
American fighter Taylor was an unorthodox opponent, rushing forward at every opportunity with wild punches before eventually succumbing to Gallagher's superior technique in the third.
"Everyone was like, 'Oh, he's 1-1. He's not that good.' I knew he's technically not that good but he was really strong", Gallagher said. "Even when you grabbed a hold of him, he's probably the strongest person I've ever fought. He was very awkward and wild with his shots. It was an awkward fight. I was happy that I just took my time. I knew the finish was coming."
Bellator have clearly placed a lot of stock in Gallagher. Despite just recently turning 20 years old, the Strabane native has already garnered a sizable fan following — something that was particularly evident with the rousing reception he received when he forced Taylor to tap last month. By placing him in his second Bellator co-main event just a couple of months removed from his first (as well as further plans to fight for the promotion this summer), Gallagher has clearly been earmarked by the promotion as a potential superstar.
Even some fighters far more experienced than him might find themselves concerned as to the pressure of fighting on such a big stage but not Gallagher. Where some see pressure, he sees opportunity and, as he says, he may as well be fighting in front of his teammates on the mat in SBG or in front of 10,000 of his countrymen.
The only exception he allows himself though, is the moment the fight ends. That's when he takes it in and allows himself a moment to reflect on his journey. But after that, it's on to the next one.
"You can visualise all you want and block it out as much as you want and I did that, I blocked it all out, but when I won I remember just glimpsing up out of the corner of my eye and going, 'Oh my fucking god.' The whole place was on their feet, but I called that from day one. And I don't see it being any different in this one. They're coming up to my neck of the woods now."
And as for his opponent on February 24th?
"Bellator saved his life last time and now I'm going to end it."
Comments
comments