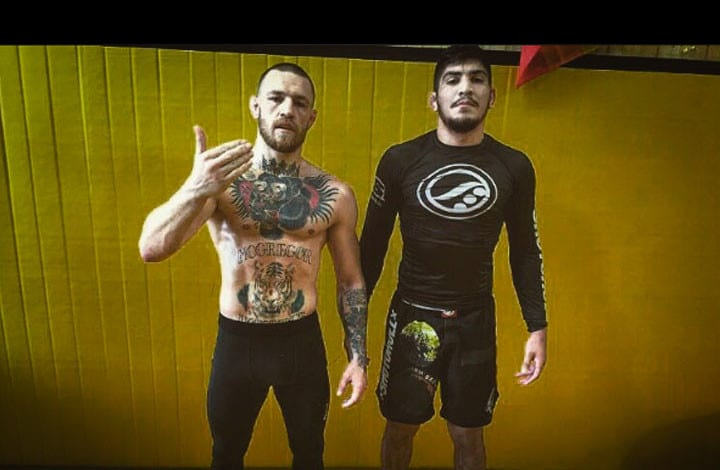 Ever since young jiu-jitsu star Dillon Danis started training with UFC lightweight champion Conor McGregor, he's received more attention than many of his peers did at the same stage of their careers.
Indeed, because of the connection with McGregor, and because of his jiu-jitsu skills, Danis has received more fan attention than most other jiu-jitsu practitioners in regards to a move into MMA — a move that appears to be soon arriving.
"Actually I think very closely," Danis said, speaking on The MMA Hour. "There's a fight in February that I've been offered, but it's on the same day as a jiu-jitsu tournament and right now I'm in that dilemma of taking the fight or take the jiu-jitsu tournament. I'm going to have to make my mind up soon, but I feel like it would be soon. After being at [UFC 205], it was like 'I have to do this, this is what I want to do'
"But obviously I love jiu-jitsu, I love the gi, I love competing in jiu-jitsu, I love everything about jiu-jitsu. So it is a hard choice for me, but make no mistake if I go to MMA, I'm going to dominate and I will win the belt."
The fight has been offered by U.S. East coast promotion Cage Fury Fighting Championships, and although the conflicting jiu-jitsu tournament is still keeping him from committing, Danis does feel as if he might just be trading the rash guard for gloves.
"I'm leaning towards MMA, just because a lot of people out there who doubt me and I can shut them up," Danis said. "Obviously I do it for myself, but there's a lot of questions and I like to answer questions."
Danis said he would begin his MMA career in the welterweight division of 170-pounds, but was capable of going down to lightweight and up to middleweight.
Obviously, the 23-year old has a great relationship with the team at SBG, with McGregor even going as far as to say he'd taken Danis under his wing.
"He's got my mindset, he's like a protégé," the Irishman said, earlier this year. "We've been talking a lot about the mental side of things, I mean, all you got to do is look at his results. He went in and won that double gold at Pan-Ams. Heavyweight division. A blackbelt, he's only a kid. That's the mindset we bring here."
With that connection, it's likely Danis would head over to Ireland ahead of any MMA bout.
"I would imagine I would go there for a month or two," Danis said. "I'm really close with John Kavanagh, so whatever my decision is, I would talk to him about it. He's one of my mentors and Conor's one of my mentors. So [I'll be] talking to them about it first and make a decision and figure it out.
"I'm young, I'm 23 and I have so many options. I can really do anything, I have the world at my hands at 23. I can pick and choose what I want to do."
Comments
comments