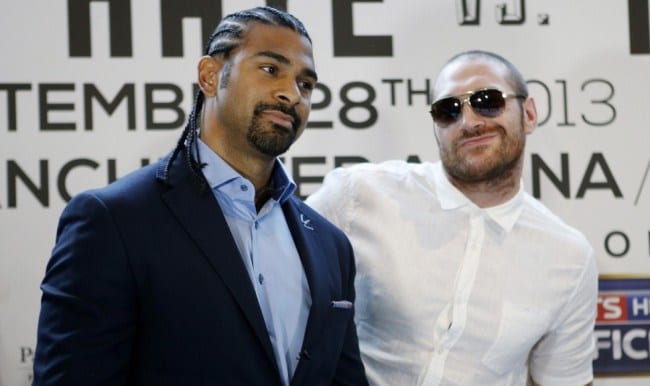 With Tyson Fury's announcement that he would be vacating his WBO and WBA titles in an aim to recover from a depression-fueled cocaine addiction, boxing has found itself without a heavyweight champion.
A champion that, Fury rival David Haye says, will be missed.
"Hopefully he gets a short ban, maybe six months, enough time to get his head right, get his training situation in the right place and he can then make an assault back on the heavyweight division," Haye told Sky Sports News. "The heavyweight division will miss him."
After a scheduled bout between the two falling through on several occasions, the duo have had a bitter rivalry. At one point, Fury even refused to say the Londoner's name in interviews, instead referring to Haye solely as "that man."
Yet despite those bitter feelings, Haye still hopes to see Fury step back in the ring, and believes his own example of a long layoff proves it can be done.
"The worst case scenario is that he gets a two-year ban," Haye said. "It sounds terrible, but I have just come off three and half years out of the ring, and a year later, I am in a position where I could be fighting for titles. I am healthy and fit.
"He's had no injuries, so he's got no wear and tear, he's not been busted up or beaten up."
With Fury gone, it's looking increasingly likely that a fight between young star Anthony Joshua and Wladimir Klitschko will be booked. If said bout comes to fruition, then Haye has his fellow countryman picked.
"Joshua wins that fight very easily, I really believe that is the case," Haye said. "I've seen how Klitschko has been declining in recent years. In his last fight against Fury, he looked the worst I've ever seen him and averaged around twelve punches a round.
"All Joshua needs is a fair referee, because if they have one then Klitschko will be disqualified for holding. The Ukrainian will be desperate to get close to AJ, so that Joshua can't let his hands go. Referees in the past have let him get away with it."
Should Joshua win that fight, he would then hold three of boxing's heavyweight titles — quite the feat for a 26 year old with under twenty professional bouts. An achievement that Haye would like to test himself again.
"A unification fight with Joshua at Wembley in the summer would be massive and it doesn't get much better than that," Haye said. "He's a tremendous athlete but I think that I have the skillset and experience to outmanoeuvre him and stick the Hayemaker on his chin."
Comments
comments