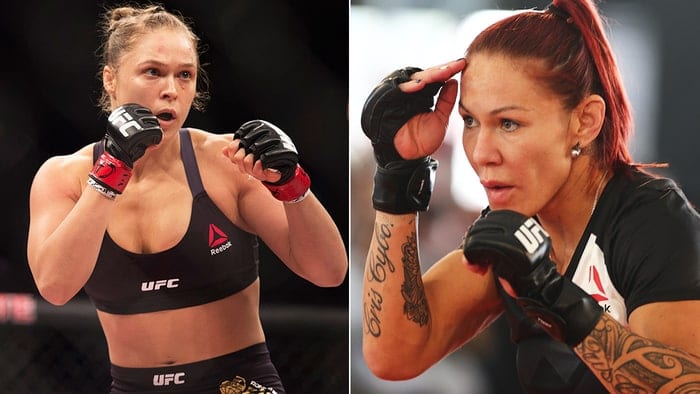 The Ronda Rousey vs. Cris Cyborg saga continues.
After yesterdays announcement that Rousey would be returning at UFC 207 to face Amanda Nunes for the bantamweight title, Cris Cyborg was emphatically unimpressed.
The Brazilian star, who usually fights at 145-pounds (although has recently moonlighted at 140) has made a point to repeatedly issue challenges at Rousey recently, with the aim of getting a super fight between the two scheduled.
If Ronda Rousey retires after losing to Amanda Nunes @TheHerd her insecurities robbed the fans the greatest fight of all time

— #UFC208 (@criscyborg) October 12, 2016
I want all my fans to know @RondaRousey could lose 100 fights in a row and I would still want to fight her. Its not about money it's respect

— #UFC208 (@criscyborg) October 12, 2016
But with Rousey's return being for the bantamweight title, it leaves the status of a bout with Cyborg murky. After all, if Rousey has a title to defend at 135-pounds, then what is to stop her demanding Cyborg make that weight — a reoccurring stumbling block in making the bout.
UFC President Dana White maintains, however, the two meeting is still very much on the cards.
"The reality is this: Cris Cyborg is devastatingly good," White said. "She's been destroying everybody right now, her popularity is starting [to go up]. She's getting bigger. Everybody wants it right here, right now, it doesn't happen that way."
"I promise you this, Ronda has to come in and fight on December 30. Ronda has to win, and the girl that she's fighting is no push over. [Nunes is] nasty, and tough and Ronda's got a fight on her hands. She wins that fight, her and Cris Cyborg are eventually going to fight. Ronda wants that fight."
And although White stopped short of guaranteeing the Cyborg-Rousey bout would follow UFC 207, his declaration that "it will be the biggest pay per view in UFC history" could give a hint that it'll come sooner, rather than later.
Comments
comments