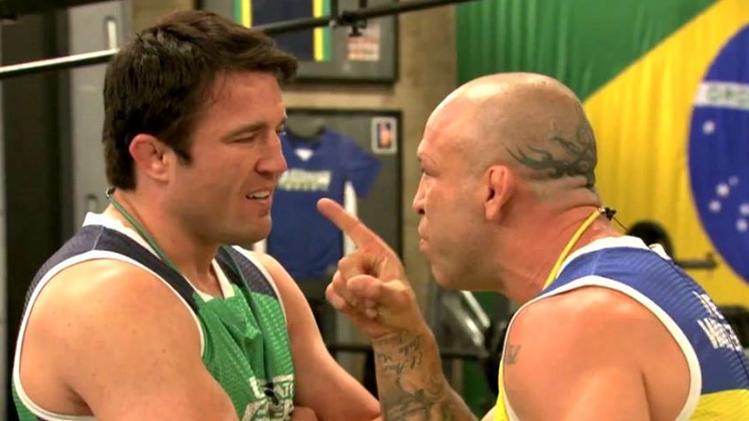 The last time Chael Sonnen and Wanderlei Silva were scheduled for a bout in MMA was in  back in 2014, which wouldn't you know it, was against each other.
After a series of performance enhancing drug scandals, the two both found themselves out of the UFC, and out of a currently active fighters license. The fight was cancelled, and the bitter feud between the two was never settled inside a sanctioned contest.
Now, nearly three years later, both men are ready to make their returns to active competition, and sure enough the unfinished business is on both mens minds. When Sonnen signed with Bellator MMA, he made a note to state that the duo would be facing each other sooner than most people realised.
As soon as summer of next year, apparently.
"We've have a contract with Wanderlei Silva even before Rizin ever got him onboard," Bellator President Scott Coker said to FloCombat. "With the contract we have with him, he won't be able to fight for us until he is cleared with NSAC. I think in May he will be cleared to compete for Bellator.
"Since Bellator contracted Chael Sonnen, believe me, we've been getting texts and calls from Wanderlei saying that he wants that fight. So, I think you'll see that fight some time in 2017 for Bellator."
Although Silva has an agreement to face Mirko CroCop in Japanese promotion Rizin later this year, and Sonnen is suspected to make his Bellator debut in January against Tito Ortiz, Coker felt comfortable enough to say that following those bouts, their next bouts would be against each other.
"That's a fight that will be one of our big marquee event next year. Chael is probably going to debut at some point early next year. Wanderlei is supposed to fight Mirko on the 29th. Hopefully everybody stays healthy and we can put that fight together sooner rather than later.
"It's very difficult to pinpoint exactly when we can put it on, it's kind of a moving target in a way, but I think some time in the summer for sure."
The rivalry between the two has been well documented, reaching it's height when they came to blows while filming season three of The Ultimate Fighter: Brazil.
"Wanderlei is still pissed about what happened between them and he wants that fight. It's something personal for him," Coker said. "Honestly, I don't really know what happened to make him that compelled to fight Chael, but I can tell you that he is not happy with what happened between them.
"With Chael, he's down to fight anybody on any given day. It's going to be something that we'll try and map out when we sit down with both guys at the beginning of next year."
Comments
comments