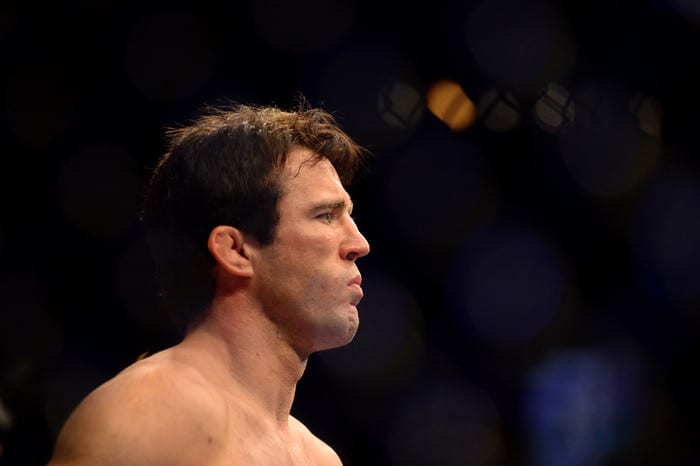 At some point we're going to have to take their word.
A day after Tito Ortiz reacted angrily to suggestions his Bellator 170 fight with Chael Sonnen was fixed, Sonnen — the loser of the bout — has come out and confirmed Ortiz' statement. Regardless of how odd the fight winning choke appeared to those watching.
"It was a choke. It was an oxygen issue, not a pain issue," Sonnen said on The Luke Thomas Show. "And somebody had asked me that … after the fight, and I had no idea what she was talking about. 'Didn't you see it? I got put in a rear-naked choke.' And then I got home and people were saying that it didn't look like it was on. I don't even know how to respond to that.
"All I can tell you is I couldn't breathe. I didn't respect it went on. I thought we were going to get into scramble and I was going to come on top, and I was stuck. It's really hard to give up your back, ever. You give up your back in the first round before you have that sweat going, man, it's just a tough spot. And it's embarrassing, it's all those different things. But to answer your question head-on, yeah, it was a choke, it was not a crank."
Sonnen can actually see some positives in the skepticism from fans. In his eyes, his performance looked so out of sorts that fans couldn't believe he would perform so poorly. But, while he might wish to have less than stellar for other reasons, Sonnen has to hold his hands up.
"I can tell you, if you're ever in a contest and somebody thinks that you threw it, like some of my fans in this case, like 'he wasn't trying', no, the hard reality is I got put in a choke," Sonnen said. "I was trying and he squeezed the choke better than I defended it, and as much as I appreciate you guys trying to give me an excuse, man, I'm a guy who hates them.
"It's fun to be a good winner, it's hard to be a good loser, but it's the process. It's protocol and procedure, and if you get beat, you've got to tap and surrender, man. You've got to own it forever. You can't go back and say, 'well, I didn't try.' So as much as I appreciate supporters offering an excuse for me, there's not an excuse, man. I got put in a choke and I had to tap."
Comments
comments