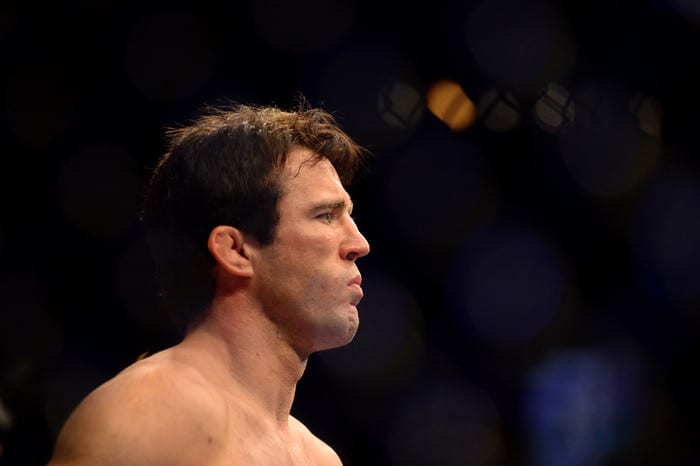 When Chael Sonnen signed with MMA's secondary promotion Bellator MMA, talk on who he would face in his company debut immediately started. While many names were mentioned, in the end one opponent was found fairly quickly in the form of MMA legend Tito Ortiz.
Today, Sonnen spoke on the match up during the Bellator 170 media call, describing what exactly was the motivation behind facing Ortiz, and what he sees himself accomplishing in Bellator.
"I want to compete at Bellator," Sonnen said. "I want to be a champion, get to the top, and compete with all the guys. I want to find a weight class. I'd like to do it at 205-pounds, but I think there's an opportunity at 185 and now we have some big signings at heavyweight and catchweight too. I just think there's a lot of opportunity over here.
"I can tell you as far as training, working hard and being prepared, that's what I do. I do it every day. I will bring my skills to the fight and if they're enough I'll win; If they're not, I won't. That's just the way that this sport is played and I'm just looking forward to competing with these guys."
When the bout between Sonnen and Ortiz was announced, most minds immediately went towards what sort of trash talk we'd hear between the two. While Sonnen is known as one of the best orators ever found in MMA, Ortiz is more thought of as… well, not that.
And, after Ortiz delivered a long speech about why he would be winning the fight, Sonnen certainly wasn't impressed.
"Man, it's painful," he said of Ortiz' promotion ability. "It was painful just listening to him read through that list of notes. He just rattled off all of his bullets right there in one answer and I think he asked to go to the bathroom during it, which was a little weird. I don't care, I never thought about Tito Ortiz. I didn't come to this organization to fight Tito Ortiz. I've been chasing Wanderlei Silva around, but Wanderlei is busy until the summer. They called me and asked if I'd fight Tito on January 21 and I didn't have anything else going on, so I said yes."
Sonnen's signing for Bellator was a surprise to most observers of the MMA landscape. Once one of the biggest draws in the sport, Sonnen's move seemed an odd once, especially considering he was apparently preparing himself for a return to the UFC. And, while some have suggested that Bellator is a step down for him, the "American Gangster" is only seeing the positives.
"I've been to two Bellator shows; one at Mohegan Sun Arena and one in San Jose," Sonnen said. "Both events were sold out! When I was in San Jose, I was sitting there and down the ramp comes the greatest heavyweight of all time, Fedor Emelianenko. Coker signed him and didn't even say anything to anybody. The place was packed and the ratings were going higher.
"I wanted to come to Bellator when I saw Ken Shamrock walk the ramp and I thought this is awesome. Connecticut and then California, both sides of the country and both sold out. The household name that Bellator has become is amazing. I used to have to explain to people what UFC and what MMA was. When I tell people I'm with Bellator, they know exactly what it is. When Tito and I met in that college wrestling match, there was 80 people there tops, nobody cared. It was a big sacrifice just to show off in front of 80 people.
"To show off in front of a sold out arena, a record-breaking show, is fun."
Comments
comments