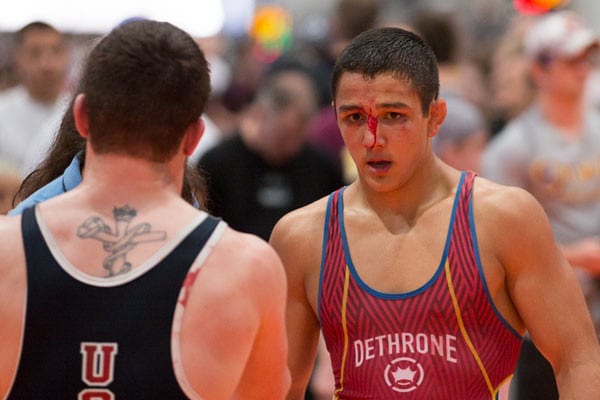 If you haven't heard of Aaron Pico yet, in the next few years, you're probably going to.
Touted as one of the hottest prospects to ever enter the sport, Pico is a national championship winner in both freestyle and Greco-Roman wrestling, as well as a Junior Golden Gloves national champion. He already has a deal with Nike.
At 18, the youngster signed with Bellator MMA, and has trained for two years in preparation for his debut, which he anticipates is coming sooner rather than later. And, in that debut, he's already found someone with whom he has a personal problem — fellow Bellator star and huge prospect in his own right, James Gallagher.
Gallagher irritated Pico after taking to Instagram and mocked American wrestlers, something which Pico considers himself to be.
"He wrote a check with his mouth, and now he's gotta deliver," Pico said, speaking to Bleacher Report. "He says he can strangle all the American wrestlers, but I looked at his record, and he's never fought one, so he doesn't even know. … He made comments about American wrestlers, well now, guess what? You're talking to a real American wrestler."
"We'll see. For me, [Gallagher's] the only thing on my mind. I'll fight him in Ireland, I'll fight him in L.A. The main thing for me is that we're gonna get it, and we're gonna make it big."
Comments
comments