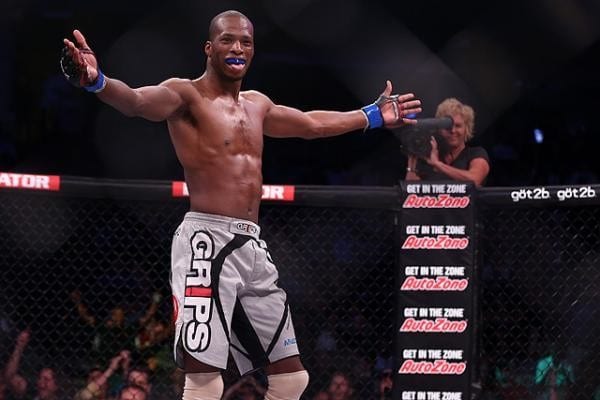 On paper it looks like everything worked out for Michael 'Venom' Page at Bellator 165 last weekend but the reality is a lot different.
'MVP' improved to a perfect 12-0 with a split decision victory over veteran fighter Fernando Gonzalez last weekend but his performance belied the flashy highlight reel showcases which fans of Page have become accustomed to throughout his career thus far. What was predicted to be another showstopping performance from Page was instead the recipient of a chorus of boos from the fans in San Jose, as the 170 pounder stuttered to an unconvincing win against the now 25-14 Gonzalez.
Page never got his trademark offence going in the three round fight, attacking primarily with single shots in the first two rounds. In fact, it's quite likely that Page expended more energy in mid-fight taunts to his opponent than he did while trying to fight him.
By the third round, Page was out of gas and Gonzalez stole the round on the judges' scorecards but Page had apparently done just about enough to win the first two rounds according to a pair of the judges. A third judge awarded all three rounds to Gonzalez.
Speaking after the fight, Page laid the blame on his opponent for not making the fight exciting.
"Normally, I put on a show," Page said via Bloody Elbow. "People have high expectations. I had a bad day at the office.
"When you're working with someone being negative ten minutes of the fight, it's very difficult to get anything off. In the last round, I was disappointed in not figuring out the timing. It was still a bad day at the office, but I won that fight two rounds to one."
"Obviously you don't ever want to get booed," said Page. "I've been booed before, but in this particular situation it was due to the performance. Usually I'm booed because I'm coming from abroad. It added to the frustration for me because I love to give a good performance. I had a bad day at the office, and I still took a win. I managed to achieve what I wanted to achieve.
"I'll take a rematch, but I've got other things in mind" said Page, "He didn't take his chance when he got it. I'm going to move onward and upward."
Comments
comments