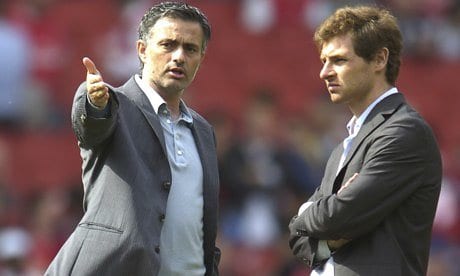 Former Chelsea and Spurs manager Andre Villas-Boas has had a long and uneasy relationship with Manchester United manager Jose Mourinho.
The pair met while under the tutelage of the late Bobby Robson, who served as a mentor of sorts to them both as he managed FC Porto, a club each man would go on to manage.
Villas-Boas, 38 served for many years beneath Mourinho as a member of his backroom staff, following him from FC Porto to Chelsea and finally to Inter Milan. Despite the longtime partnership, the relationship turned sour when Villas-Boas stepped out of Mourinho's shadow, taking on a manager's role at Academia before following in his mentor's footsteps by coaching Porto and Chelsea.
His time at Chelsea would not be lengthy or successful and before long he found himself down the road at White Hart Lane, managing Tottenham Hotspur.
With Mourinho now residing over Manchester United, Villas-Boas has spoken at the ASPIRE4SPORT conference in Amsterdam about his views on the iconic coach, the relationship they once had and the disillusioned power he holds over those he works with.
"I was able to learn to many things and working with him takes you to another level, Villas-Boas said, "You fall in love with him and he becomes your idol. I wanted to be like him, know everything that he knew and absorb all the information he was giving."
"Then you fall on the wrong side of Jose and that's when things change and you realise that you've been blinded by someone. He has this fascinating capability of getting the best out of you, which has good or bad consequences for people."
Mourinho has gained himself a reputation over the years for his unique personality, the kind of personality that never fails to rub people the wrong way, as evidenced by his turbulent relationships with some of those he encountered at both Chelsea and Real Madrid.
When Andre Villas-Boas took up the mantle at Chelsea he was just 33 years of age, a rare occurrence for a manager with no playing experience prior to a foray into management. Now, looking back on his time at Stamford Bridge he seems to understand it was matter of his inexperience at the top level being a key factor in his failure.
"The Chelsea experience was too much too soon," he added. "I wasn't flexible as a manager at that time. I was communicative, but I wasn't flexible in my approach. At Tottenham I learnt to be different."
Andre Villas-Boas is unemployed at the moment having turned down an extension on what was a successful stint as the manager of Zenit St. Petersburg.
Jose Mourinho of course is the current Manchester United manager and will see his side hope to gain some forward momentum and consistency as they face Liverpool on October 17 after the international break.
Written By: Cillian Cunningham
Comments
comments