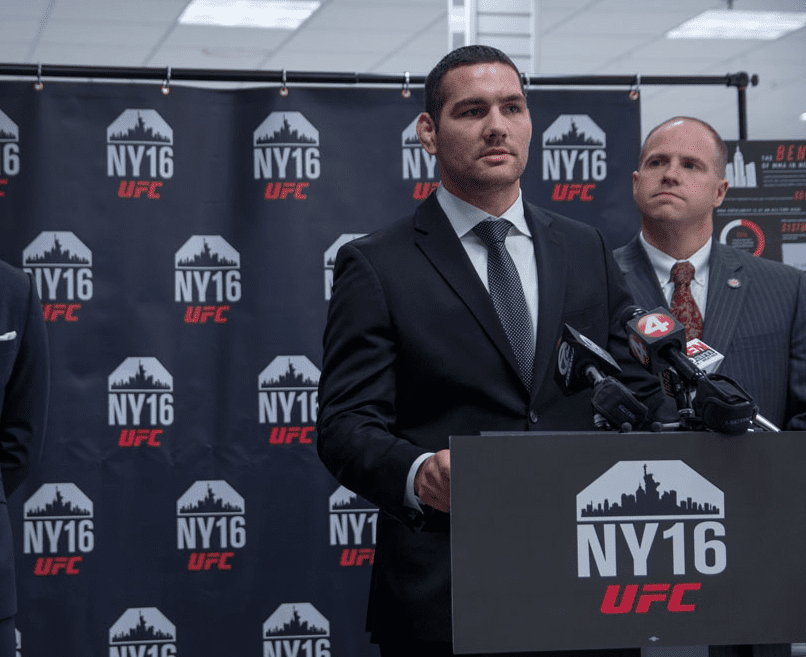 Chris Weidman and Yoel Romero will be a part of UFC 205, but for a moment there, it looked as if things might fall through.
With Romero posting pictures of himself signing contracts onto Instagram, only to delete them moments after, it was enough to have fans speculating if Weidman was playing hard ball with the UFC.
Really, all the talks needed was a little help from an old friend.
Speaking on SiriusXM's The Luke Thomas Show, Weidman discussed why the deal took a little longer than it perhaps might have, as well as
"I met with Dana, one night he phoned and we talked for a while, basically negotiating and talking business," Weidman said. "And he thought we should probably do this with Lorenzo. So Sunday night I was out to dinner with Dana in the city and it was a late dinner, long night, and I get back and ended up getting a plane out to Vegas the next morning.
"Headed out to Lorenzo's compound and got to hang out with him a little bit and ended up we got the deal done."
"[Weidman] and Lorenzo have a really good relationship," White said on the UFC Unfiltered podcast last week. "It's almost like when Lorenzo left there was no closure with some stuff that they were working on[…]Lorenzo's very well respected by a lot of the guys, and he and Weidman had a real good relationship."
As Weidman made his way up the roster, he ended up dealing with Fertitta more than with White. The two had some future projects in mind, and Fertitta's selling of the UFC and exit of the sport left the former middleweight champion in an uncertain position.
"When you first start out, [negotiations] are just kinda between your manager and Joe Silva and then as you progress," Weidman said. "At some point I ended up kind of working with Lorenzo on everything, and obviously he left. So everything we were gonna go on and… now was just speculation. So I ended up getting back in touch with him and we made it work."
Thankfully, that one conversation with Lorenzo was all that was needed to get things back on track. Now, Weidman says, things should be fine going forward.
"I have a great relationship with Dana too, I have no problem talking with him at all."
UFC 205 takes place on November 12 at Madison Square Garden arena in New York City.
Comments
comments