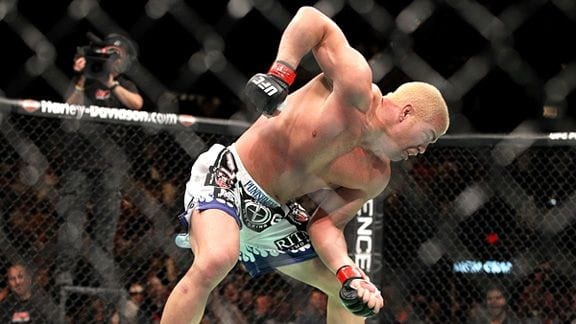 Tonight, at the culmination of Bellator 170's main event, Tito Ortiz is set to retire from his twenty year career in mixed martial arts — one last chance for the lion to roar, as he puts it.
Time is not nice to fighters.
If their skill doesn't fade, the skill of others surpasses it. If they don't get hurt, their records begin to flake. If their chin doesn't start to dissolve, then their mind begins to wander.
At one point over the years, Tito Ortiz went from being one of the most intimidating and dangerous men on the planet and turned into something of a self-parody. It's hard to pin-point exactly when. Maybe it was around the second Liddell fight, where his early career dominance as an elite tier fighter seemed no longer an option. Maybe it was the loss to his 'Ultimate Fighter' protege Matt Hamill at UFC 121. Maybe it was as late as the move to secondary promotion Bellator.
It's hard to say when, but it's easier to say why. The last time Ortiz represented an elite level fighter was in 2006. Ever since then, the losses pilled up and a record of 15-4 has turned to 18-12-1. Nearly two generations have entered the sport since his title winning days. Younger fans no longer see the Huntington Beach Bad Boy; they see a relic.
But it would do us well, on the eve of his goodbye, to remember just who Tito Ortiz was.
He was the flash bastard who shone in the dim light of the early UFC days. He had bleach blond hair, flames on his shorts and no fucks to give. All very 90's and in the 90's, all very cool. Tito Ortiz is a human version of UFC theme 'Face The Pain'.
Yet it was because of who he was that he was a perfect fit for the sport. Just like the UFC and MMA itself, Ortiz was brash and unforgiving. The middle fingers he frequently flipped represented the sports attitude to the mainstream perfectly. His tough guy trash talk wasn't smart, but it didn't need to be, he was the grunge kid to take over from boxing's glam rock.
So while his record, regardless if tonight ends with a win or a loss, won't look spectacular. And at 42 years old, likely neither will his performance, it's worth noting that we're saying goodbye to a man representing the last one standing of MMA's original stars. Chuck Liddell, Randy Couture and Ortiz himself were the ones who forced open the door of wider-appeal the inch that MMA needed. They were the athletes whose appearance gave fans the pre-fight nerves, long before Conor McGregor or Ronda Rousey had considered a future in combat.
It's because of those early successes the UFC survived long enough to become valued the billions of dollars it is today. It's because of those early stars that mixed martial arts clung on through the dark ages of Blockbuster tape rental and broke through to SportsCenter and Fox.
So yes, Ortiz will be leaving with significantly less fanfare than he used to get. Yes, he'll probably look a near shell of his former self. And yes, he'll probably say something inarticulate and bordering on the stupid.
But despite all that, as the man who digs graves to celebrate is going to rest himself, it's worth remembering that without Ortiz; MMA's history would be significantly duller.
Comments
comments