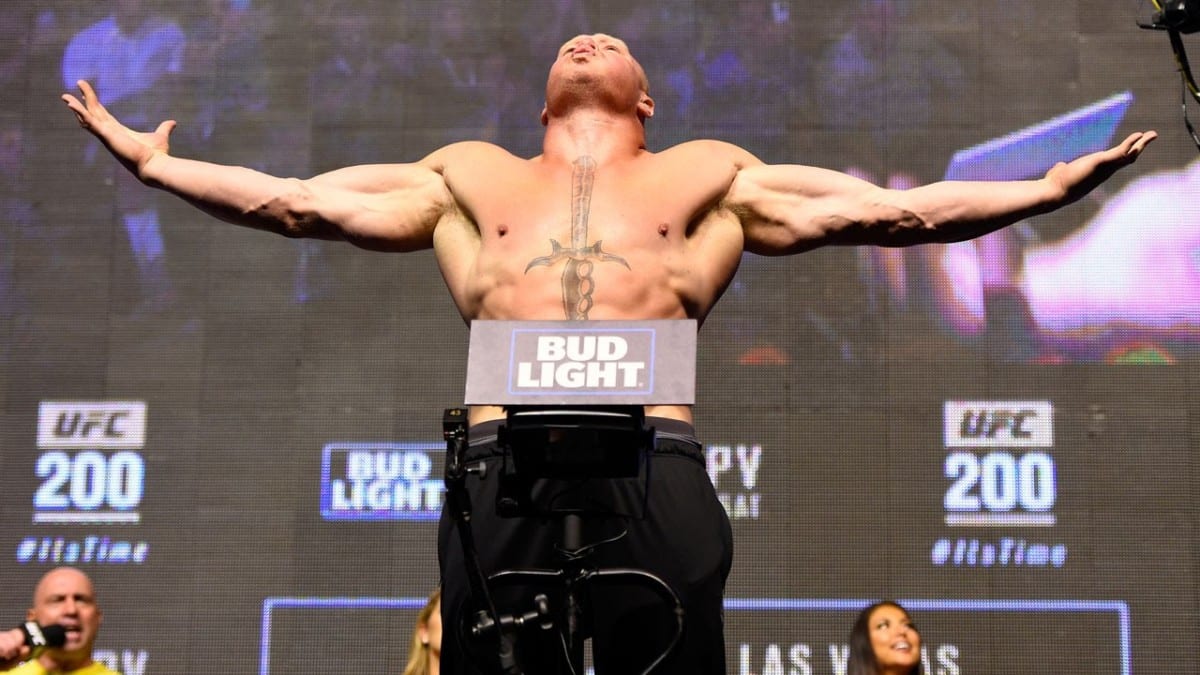 Now that 2016 is nearly over, and it's time for reflection. Looking back, it's been quite the year for MMA; legalisation, repeated broken records, a sale for $4 billion… there's a lot to digest. As such, leading up to Christmas, TheMacLife.com will be revisiting the twelve biggest stories (good and bad) from the past twelve months.
And so today, we'll be starting with the twelfth day of Christmas, where MMA gave to me: the return of Brock Lesnar.
While it's easy to look back on Summer super-card UFC 200 with a feeling of mild disappointment, leading up to the show, things were different. Three title fights, one of MMA's biggest rivalries and an undercard stacked from top to bottom, it felt as if UFC 200 was going to be a celebration of the UFC's acceptance into the mainstream. 
And, to top it all off, Brock Lesnar was going to be involved.
The revelation (a video promo kept secret until the very last moment) amplified the surreal nature of it all. Returning to the Octagon five years after an unceremonious retirement, Lesnar was one of the UFC's biggest ever stars, was back.  
And, as his bout with Mark Hunt approached, the former heavyweight champion portrayed a man more comfortable than ever before, and was quick to remind fans why he had been so captivating years prior.
With memorable quips to the media like "I'm a jacked white boy; deal with it" and a physique that looked better than ever (and what a sentence that is to type now), Lesnar quickly became one of the biggest reasons to order UFC 200.
While the fight itself was something of a lacklustre affair, Lesnar's return and subsequent victory over a top ten heavyweight after five years of absence showed signs of the mans undeniable talent, and all of a sudden the idea of a heavyweight title fight didn't seem too far away.
Until USADA came calling.
Just days after the bout, it was revealed that USADA had discovered banned substance Clomaphine in more than one of Lesnar's drug tests leading up to the event.
While the WWE star maintains the estrogen blocker was inadvertently ingested, the matter has yet to go to be decided, and the disaster has kept Mark Hunt out of the ring with ill feelings towards UFC brass. Something which all considering could turn out to not have been worth the hassle for any parties involved.
But, with all that chaos and disappointment aside… it was pretty cool to see him back in there.
Comments
comments