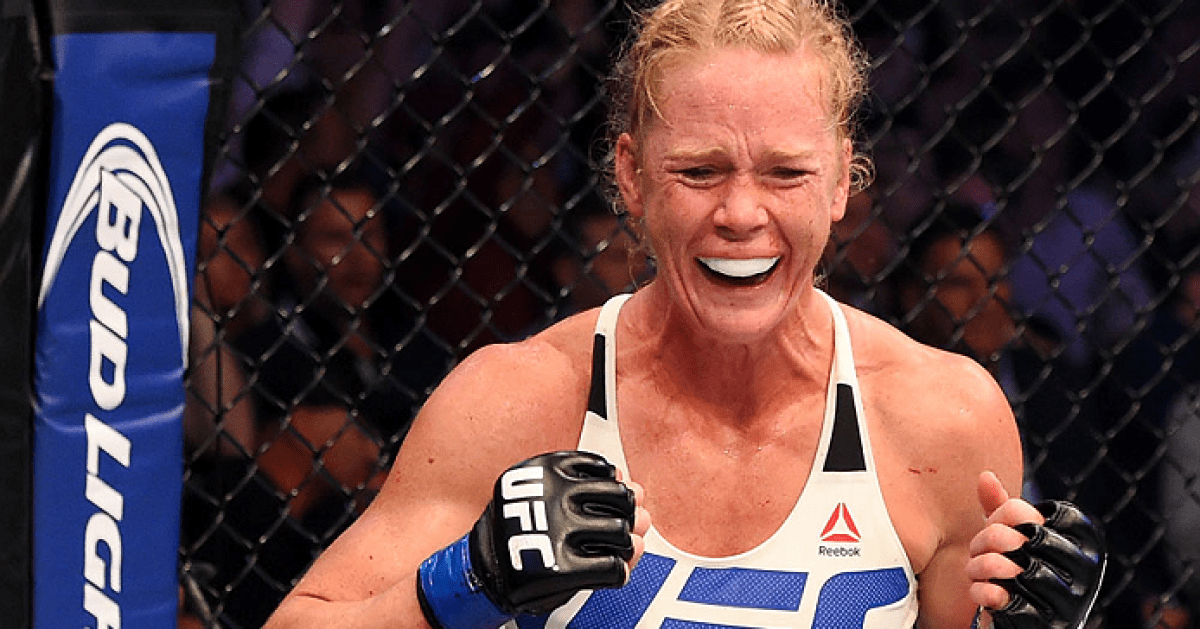 Back at UFC 193, Holly Holm sent a shockwave through the MMA world by shutting the lights off on the seemingly unbeatable Ronda Rousey—a victory that would earn her the UFC women's bantamweight title.
Several months later, in the co-main event of UFC 196, Holm would then lose that title, falling to Miesha Tate via fifth-round submission.
This Saturday, the former UFC champion will return to action for the first time since her title loss, taking on a dangerous Valentina Shevchenko in the main event of UFC on Fox 20. Yet despite this looming challenge, Holm still can't seem to fend off questions about Rousey and Tate.
In a recent appearance on FS1's Speak for Yourself, Holm was asked which of the two aforementioned women she'd prefer to rematch.
When asked, the former champ had this to say:
"You know, honestly, either one. Because even, money aside with the Ronda fight, what would be the thing for that is that I would want to show it wasn't a fluke; that it was skill. It doesn't matter what fight I would be going into. They both would be carrying a lot of weight behind them; a lot of nerve-wracking moments and a lot of anxiety. But you know, that's also why you do this sport."
So there it is. As far as the "Rousey or Tate?" question goes, Holm doesn't seem to have much of a preference. Of course, none of that even matters if she doesn't get past Shevchenko this Saturday. And if she does get past Shevchenko, she'll likely have several more exciting matchup possibilities to look forward to in Invicta featherweight champion Cris "Cyborg" Justino, and newly crowned UFC champion Amanda Nunes.
If Holm gets past Shevchenko this weekend, who would you like to see her fight next?
Have your say in the comments below.
Written By: Tom Taylor
Comments
comments