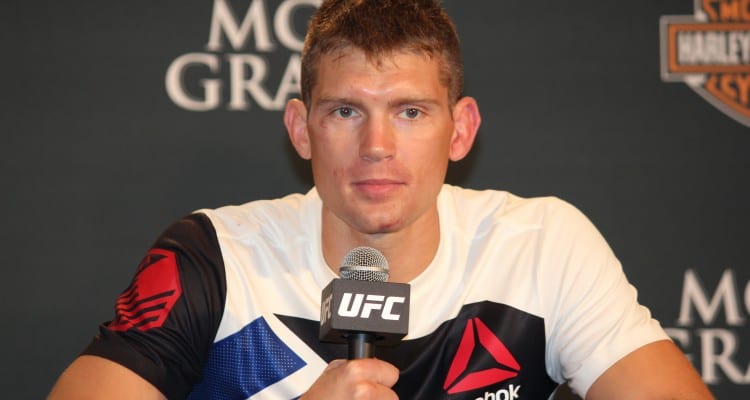 On his recent appearance on today's the MMA Hour with Ariel Helwani, top Welterweight Stephen "Wonderboy" Thompson detailed his plans for a title shot, one that would take place at Madison Square Garden this November.
His appearance began with his a breakdown of the events of UFC 201 with Thompson showing disappointment in former champ Robbie Lawler's seemingly muted offense in his bout with Tyron Woodley.
"I was a little disappointed, I did want to see a little more out of that fight, out of both of them. Robbie just wasn't there. Just a little disappointed that Robbie didn't tee off a little."
On Robbie's game-plan he went on to say, "They got into the clinch position and I don't know if Robbie felt the power of Tyron or something but from then on he was backing up, and that's something you can't do against Tyron Woodley. If you give him that forward momentum he's going to land a shot or take you down."
With Wonderboy having already stated his desire to face Lawler prior to the upset, the decision made by Tyron Woodley to reject Thompson's claim to the next shot at the welterweight title, was one that was met with some confusion.
"In my head I was like, really? you're kidding me right? that you wouldn't give me this shot. I mean yeah he went out there and he defeated Robbie Lawler but you know he took this fight and a lot of people didn't think he deserved it in the first place. Seconds after winning his title, already choosing his fights? Who really gets to do that?"
With that said his mood became more determined and despite him saying he has not heard from any UFC officials with word of his next fight, he defiantly stated that he would fight Woodley at UFC 205.
"I don't think he's scared of me, but i dont think he wants to fight me. I don't know
if he thinks it's a bad match up, but no matter what I'm fighting Tyron Woodley and it's going to be in Madison Square Garden, no ifs, ands, or buts."
With comprehensive wins over top contenders in Rory MacDonald and Johny Hendricks under his belt, do you feel Wonderboy is deserving of his shot at the 170lb strap?
Written By Cillian Cunningham
Comments
comments