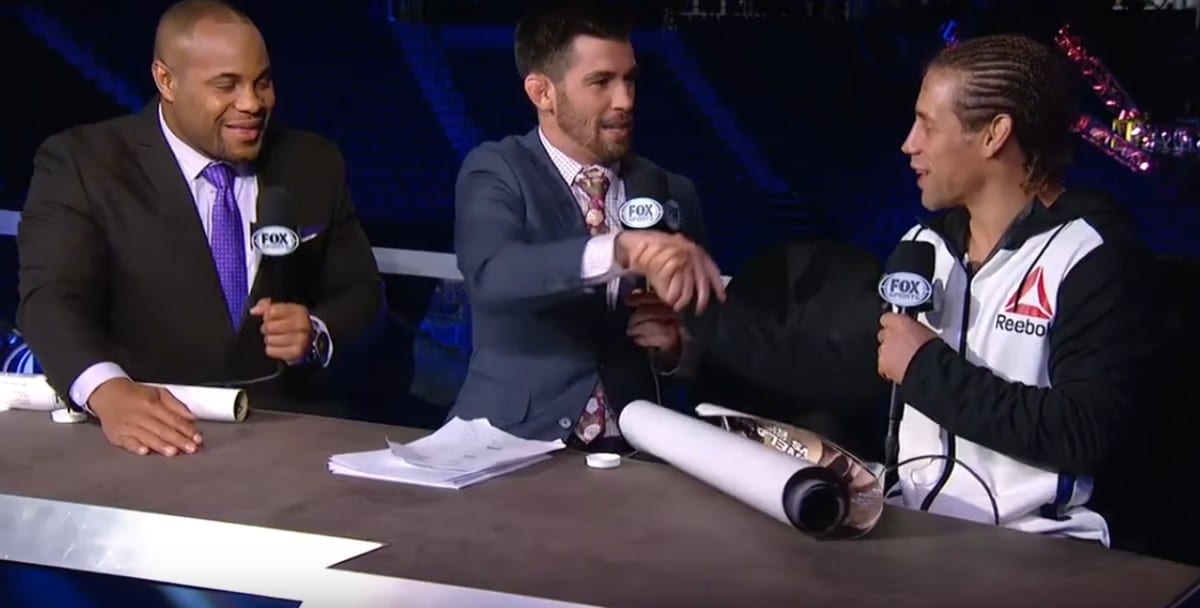 Their rivalry was one of the defining feuds in the short history of the UFC's bantamweight division but now that Urijah Faber has hung up his gloves, Dominick Cruz says he bears no grudge towards the only man to have defeated him in his professional career.
Following his farewell victory over Brad Pickett in Sacramento, Urijah Faber joined Dominick Cruz at the Fox Sports commentary position to discuss his win and was presented with a poster by Cruz from their first meeting at WEC 26.
It looked very much like a 'bury the hatchet' moment between the two fighters, but as Cruz explained to UFC interview Megan Olivi, there was never any real animosity between the two fighters.
"I had no beef with him. Realistically, everyone thinks that I hate this person and I've said it in every interview; I choose not to hate anybody. I don't hate Cody either", Cruz said.
"I am fighting a human being. It takes a specific mentality to go in there and risk life and death on that night and that's what I put myself into on that night. That's what I put myself into leading up to these fights. That's the mentality that I know I'm going to have until I know I'm not going to have to fight this person again.
"I shut Faber out. He never touched the UFC belt. He never, ever will. Why do I need to keep holding anything on to that? It's done.
"He beat me back in 2007. I appreciate all the fights I had with him, that fight made me a better athlete. It made me a better man [and] it made me a better fighter. I appreciate the loss that I had. I'm glad that he was an arrogant prick about it because it fired me up. It also showed me how to not act."
Cruz defends his 135-pound title against the undefeated Cody Garbrandt, a fighter who could be considered a protegé of Faber's, at UFC 207 on Friday and the champion thinks that once the final bell will is rang, his performance will be considered among the very best of his career.
"I think this fight will be one of my best performances in a long time. My body feels in sync, my mind feels right. I'm just so healthy; I didn't have any injuries in this whole camp. That's rare. The last time I went through a camp like this without any injuries was when I fought Takeya Mizugaki."
Cruz finished that particular fight in just 61 seconds — an ominous sign if ever there was one for the title challenger.
Comments
comments