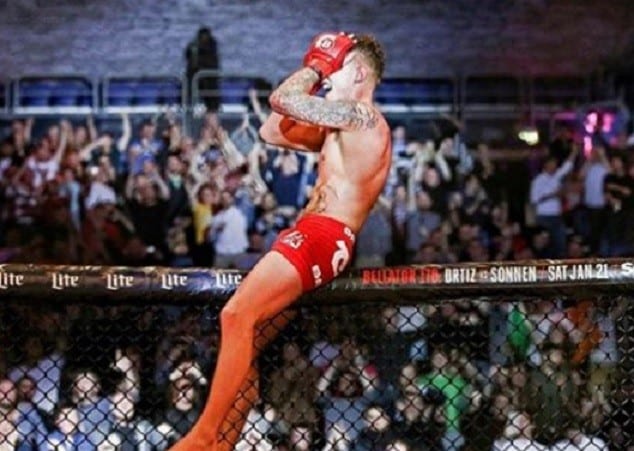 It was a mixed night for the Irish throughout Bellator and BAMMA's co-promoted event in Dublin's 3Arena on Friday night.
In the evening's main event, 'King' Muhammed Lawal earned a clear-cut decision victory over Japanese Olympic judoku Satoshi Ishii, winning a unanimous decision after dominating a sluggish affair throughout.
After a week-long war of words James Gallagher has the last laugh against opponent Anthony Taylor, submitting his opponent in the third round in the co-main event of the Bellator portion of the card.
SBG's Gallagher received a rapturous reception from those packed inside the arena and rewarded them with a spectacular finish. After some back on forth action throughout the first two rounds, Gallagher wobbled his opponent with a leg kick and seized the momentum to leap to his opponent's back. About a minute later, Gallagher had locked in a rear naked choke forcing a tap from his American opponent.
A GREAT win for the Irish 🍀🇮🇪@StrabanimalMMA @SBG_Ireland #Bellator169 pic.twitter.com/I2Nll3WhlX

— Bellator MMA (@BellatorMMA) December 17, 2016
With the win, 20-year-old Gallagher moves to 5-0 in his career and 2-0 with Bellator and in doing so, underlined his status as one of the top prospects in the sport.
Prior to that, Sinead Kavanagh took Greek opponent Elina Kallionidou the distance and won a lobsided decision by scores of 30-27, 30-26 and 30-25. Kavanagh's aggressive striking game proved to much for Kallionidou, who had no answer to Kavanagh's walk-forward aggression.
Afterwards, Kavanagh spoke of her disappointment at not securing a finish and criticised her own performance for spending too much time in search of a definitive knockout finish — by anyone watching, such as Bellator MMA president Scott Coker at cageside, couldn't have been anything but impressed by Kavanagh's showing in front of her home country.
Northern Irishman Rhys McKee moved to 5-0 and won the BAMMA Lonsdale lightweight title with a stunning first round knockout of the previously undefeated Jai Herbert inside the first round.
The fight was a close affair for the first couple of minutes, with both fighters landing strikes but it proved to be a short night for both fighters when McKee unleashed a flurry which knocked Herbert out cold — and prompted MMA legend Wanderlei Silva, who was ringside, to leap from his seat and applaud.
Rhys McKee KO's Jai Herbert at #BAMMA27 pic.twitter.com/9OhIgcFg6e

— caposa (@Grabaka_Hitman) December 16, 2016
Kiefer Crosbie, another SBG product, moved to 2-0 in his professional career, submitting Conor Riordan with a triangle midway through the second frame. Englishman Riordan was looking to instigate grappling exchanges at every opportunity and threatened with heel hooks on more than one occasion, but it was Crosbie who ultimately proved to be victorious and seized on a moment's hesitation from Riordan to lock in a triangle which forced a tap quickly thereafter.
Elsewhere on the card, the highly-touted Dylan Tuke came up short against Cameron Else and was finished via strikes just 20 seconds into the first round. In the main event of the BAMMA portion of the card, a gutsy performance from Alan Philpott wasn't enough to pry the bantamweight title from the grip of 'Fire Kid' Tom Duquesnoy, who won via second round rear naked choke.
The full results from Bellator 169 / BAMMA 27 are:
Bellator 169 
'King' Muhammed Lawal def. Satoshi Ishii by unanimous decision
James Gallagher def. Anthony Taylor by submission (rear naked choke), round three.
Sinead Kavanagh def. Elina Kallionidou by unanimous decision.
Daniel Weichel def. Brian Moore by submission (arm triangle), round one.
Cameron Else def. Dylan Tuke by knockout, round one (0:20)
BAMMA 27
Tom Duquesnoy def. Alan Philpott by submission (rear naked choke), round two.
Rhys McKee def Jai Herbert via knockout, round one. McKee wins vacant BAMMA Lonsdale lightweight title.
Nathan Jones def. Walter Gahadza by split decision
Terry Brazier def. Niklas Stolze by unanimous decision.
Richard Kiely def. Keith McCabe by TKO (knee and punches), round one.
Kiefer Crosbie def. Conor Riordan by submission, round two (2:32)
Blaine O'Driscoll def. Neil Ward by unanimous decision.
Ian Cleary def. Andy Lofthouse by unanimous decision.
Main image sourced from James Gallagher's Instagram.
Comments
comments