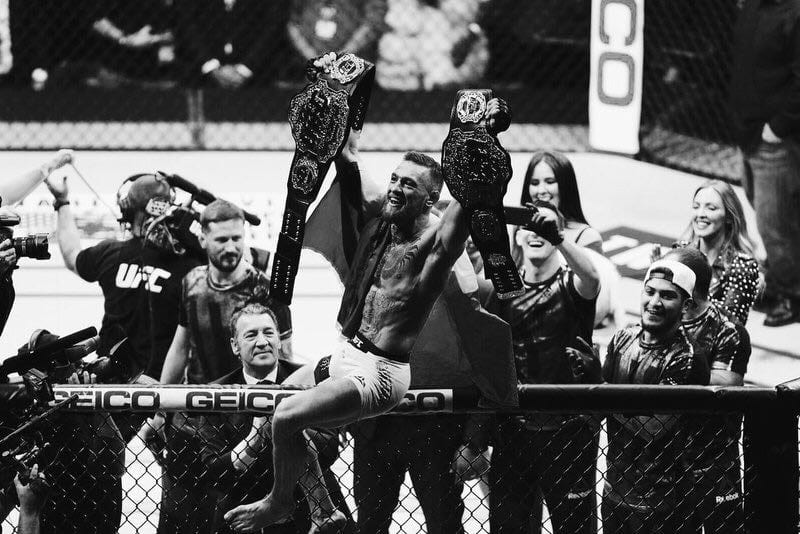 Traditionally speaking, over the years Ireland's most beloved sporting figures have come from a narrow selection of sports.
The nation of Ireland has seen success in numerous different sports over the last decade, but Conor McGregor's meteoric rise through the global mixed martial arts landscape in the past few years has seen the sport move to the mainstream from the fringes it previously occupied.
No coincidence, then, that Conor McGregor was today named Ireland's Most Admired Sports Star of the year.
The first ever double champion in UFC history was selected by 16% of those surveyed by the PSG Sport and Sponsorship Sentiment Index as being the most admired sportsperson in Ireland.
Katie Taylor finished below McGregor in second place with 14% of the vote.
McGregor first entered the rankings in 2014, earning 4% of the vote but has since quadrupled his popularity over the following two years and proved to be incredibly popular among the younger members of the vote.
"Conor McGregor really is the story of the 2016 SSSI and has propelled himself into the psyche of the Irish public, especially with the younger 18-35-year-old demographic", said Mick O'Keefe, CEO of PSG Communications.
"There is undoubtedly seasonal bias and major successes that happen earlier in the year tend to drift in people's consciousness as the end of year approaches. There were so many sporting moments and highs and lows from Robbie Brady's winner versus Italy to Munster Rugby's emotional tribute to Anthony Foley but more than anything, this year's research illustrates that as a nation, we are obsessed with sport and blessed with our sports teams and sports stars", O'Keefe continued.
And indeed, who among Ireland's sports stars can claim to be more popular than Conor McGregor?
Comments
comments