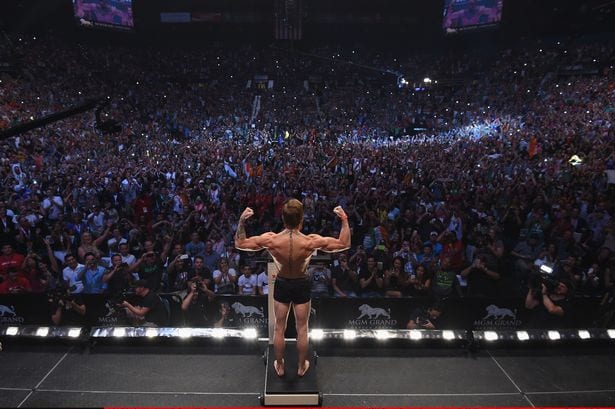 The logic behind weight cutting is simple.
By shirking the pounds to reach a lower weight class allowance, only to re-hydrate in the hours before fight night and enter into the cage a bigger and stronger fighter than your opponent.
While the practice has become an sport-wide standard, the nature of athletic competitive drive means we occasionally see fighters attempt to shrink too much, causing a number of health issues.
Yet, while the idea of weight cutting is well known, knowledge on the exact manner in which fighters can force their bodies to defy natural behavior isn't as common. While diet and nutrition play a big part in the entire process (first to go are salts and carbohydrates), but the real science — and stress — comes in the last few days before weigh ins.
There are various ways for fighters to shed the last few pounds before hitting the scales, with the most prevalent method revolving around controlling and altering water intake.
First, the athlete drinks significantly more water than usual, to increase the bodies sodium levels. As the week progresses and the fighter's water intake decreases, the high sodium levels help draw water from the body's cells. As the weigh-in get closer, fighters take to saunas, hot baths and heavy plastic suits to start to sweat out water the body holds.
It's around here things get difficult.
Along with the enforced dehydration comes everything you feel waking up after a heavy night on the town. Headaches, physical weakness and nausea are common. Not being able to eat large meals means you're constantly hungry, only compounding the misery further.
The fact that weight cutting is so widespread in the sport means it's accepted as an industry standard. But not infrequently, bodies get pushed too far — and not just at the lower end of the sport.
Former bantamweight champion Renan Barao was forced to pull out of his UFC 177 title fight against TJ Dillashaw, after becoming so dehydrated during his weight cut, he fainted and hit his head on a bathtub.
Former welterweight champion Johnny Hendricks didn't just have to withdraw from a bout against Tyron Woodley at UFC 192, he had to go to the hospital with kidney stones and intestinal blockage.
Most recently, Ian Entwistle pulled out of his fight at UFC 204 and was hospitalised after after slipping in and out of consciousness on the way to 135-pounds.
Yet, assuming a fighter hits the scale at the right weight, and is fit enough to proceed, then the re-hydration begins and the fight is on.
The concept of weight-cutting has been a part of sport for generations. In fact, several athletes in the UFC have been doing it since their teens and throughout their high school and collegiate wrestling days.
Weight cutting does have its vocal opponents who (rightly) claim that it's not a good idea to send fighters into a cage when, a day previously, they were severely dehydrated. But as long as competitive sport exists, there will always be people looking to gain any advantage possible.
And if one of those advantages is being bigger than your opponent, to a lot of athletes at least, the end justifies the means.
Comments
comments