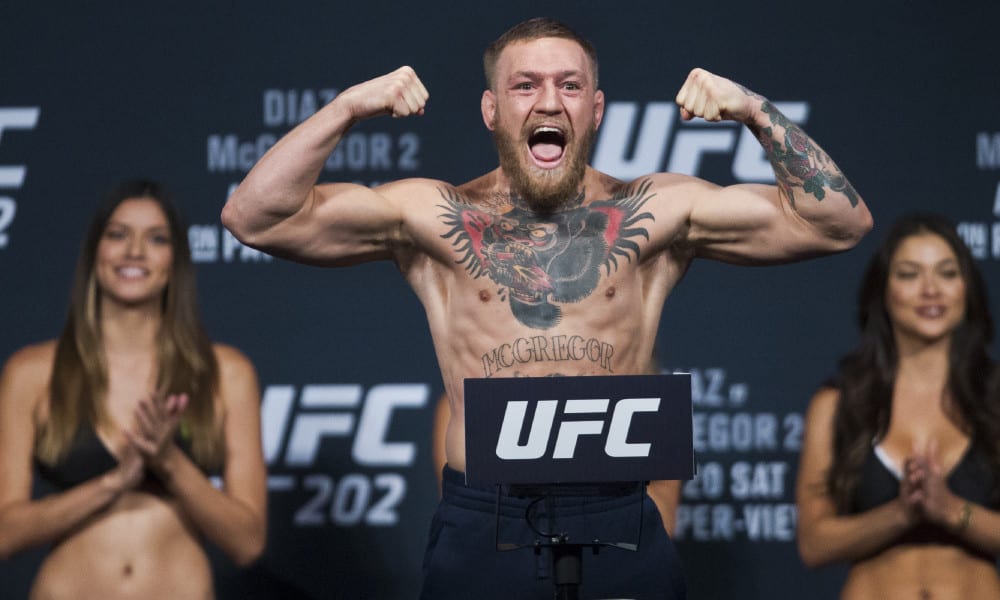 From the outside looking in, the life of a top sports star can seem like a life of luxury. Whether their office is the Octagon, a football field or a boxing ring, fans are usually only privy to the 90 minutes out on the pitch, or a 25 minutes inside a cage.
In reality, there's a whole lot more work than that involved if you want to reach the top of your craft in the sporting world.
Take a top class mixed martial artist, for example. Not only are there (at least) two training sessions a day, six days a week. There is also intense diet management, making sure that they have enough fuel in their system not only to get through the intensely rigorous sessions in the gym, but the necessary nutrients to allow their body to recover in the most efficient way possible so they are ready to do it all again tomorrow.
Preparing for a fight is among the most taxing situations that a professional athlete can find themselves in. Now imagine doing all that while on a diet.
This is exactly the conundrum which mixed martial artists face several times a year when dieting prior to a weight cut — and this usually (and perversely, some might suggest) coincides with training stepping up as the days and weeks tick closer to fight day.
But there are healthy ways in which you can nourish your body while simultaneously dropping weight, as explained by nutritionist Rhiannon Lambert who guides the diets of professional athletes Chelsea midfielder Cesc Fabregas. Lambert has devised a diet plan which can help men lose as much as 8lbs in a month – and all while keeping your belly satisfied and full.
As Lambert explains: "Men have more muscle mass, so they burn 20% more calories. They also have lower levels of fat-storing oestrogen which helps slow down fat release in the female lower body."
What are the key points to the plan? In a nutshell, having balanced and nutritious meals and cutting out junk food and processed ingredients.
"You need to eat enough for your weight and height", Lambert explains. "So if you weigh 90kg [around 200lbs] then you should eat roughly no less than 90g of protein a day. You may need to add more protein to the meals below and limit carbohydrate based on activity levels."
While it's definitely worth noting that each of us have different dietary requirements and only a registered nutritionist can devise a tailored plan for you, so the below is more guideline than gospel.
You will have to eliminate entirely from your diet:
Milk
Bread (except rye)
Sugar
Alcohol
The Rules
Leave a gap of at least four to five hours between your meals.
Eat two pieces of fruit per day but avoid banana, pineapple and papaya. Dried fruit is also not recommended.
Only snack with food high in protein between meals.
Make sure every meal has a high level of protein.
Alternate between meat, fish, vegetables and grains throughout the day.
Stay away from refined carbs (white rice, etc.)
Most vegetables are good. Beetroot, carrot, sweetcorn and parsnips, however, are not.
It is okay to interchange lunch and dinner but never, ever skip breakfast.
Drinks at least two litres of water a day.
Stay away from caffeine.
Now, as for the meals themselves, luckily there is wide range of options open to you and nor will you have to sacrifice your taste-buds for the sake of getting into fight shape.
Breakfast Ideas
Protein shake with 30g of oats, 75g of berries, 1/3 cup of almond milk, 1tbsp of almond butter.
1/2 cup mushrooms, thinly sliced with onion and celery to taste with tbsp of feta cheese. Microwave for 3 mins and serve on rye.
Protein Porridge – Oats, almond milk and protein powder (1 scoop). Serve with berries.
Scrambled eggs (2), 1 small tomato, half an onion all together. Serve 1/4 avocado on rye.
Pizza Omlette – 3 eggs, 80g roasted peppers, one handful of spinach. Make omlette as usual, then finish under a grill for final two minutes.
Protein Pancake – 1 egg, 1 scoop protein powder, 30g flour, 100g greek yoghurt. Mix, fry with coconut oil and serve with berries.
Yoghurt Parfait – 175 plain Greek yoghurt, add cinnamon, 1 scoop protein powder, layer in 20g of oats and some crushed almonds.
Lunch Ideas
Chinese (healthy) Stir Fry – 1 chicken breast, assorted veg, mixed herbs, curry powder, chicken stock cube and 100ml water. Serve on brown rice.
Mango Chicken – Chicken breast, chopped onion & mango, 2 tbsp balsamic vinegar, 4 tbsp water, chicken stock cube, pepper to taste. Add 1 cup veg and stir fry with coconut oil. Serve with salad.
Stuffed Mushrooms – Matchbox sized portion of cheese, 1 cup mushrooms (stems removed), 2 cloves garlic (grated). Grate cheese over mushroom mix and bake for 15 mins.
Peachy Chicken – 1 chicken breast, 1 peach (chopped), 2 tbsp curry powder, 2 tbsp chopped onion, 1 chicken stock cube (added to water). Slice chicken, fry together and serve on rye.
Open Sandwich – Matchbox size mozzarella, dried parsely, grated garlic clove, 1 tbsp light mayo, 1 cup steamed broccoli & tomato, 2 rye bread. Mix cheese, herbs, mayo and microwave until melted. Serve on rye with vegetables.
Quiche – Matchbox size mozzarella, 2 eggs, 1 garlic clove (chopped), salt, pepper, fresh herbs, 1/2 cup spinach, 1/2 cup salad. Mix together and bake. Serve with salad.
Dinner Ideas
Sweet & Spicy Steak – Palm sized steak, 1/2 cup mushrooms, 2 tbsp chopped onion, curry, salt & spices to taste, stevia w/ water. Steam mushrooms, add 70g quinoa and cook for 20 minutes. Fry mushrooms and onions for 2 minutes, coat steak with spice mix and add to pan with the stevia water. Serve on quinoa.
Beef Stroganoff – Palm sized beef, 1/2 cup mushrooms, 1 finely chopped onion, tbsp of garlic, paprika, nutmeg. 1 teaspoon of light mayo and balsamic vinegar. Fry all together in coconut oil, serve on brown rice.
Grilled Steak – Palm sized steak, 1 cup mushrooms. Fry together with coconut oil. Serve on quinoa.
Fish and Spinach Balls – 2 fillets of cod, 1 egg, 1 cup spinach, 1 onion finely chopped, 1 garlic clove finely chopped, 1 tbsp curry powder, mixed herbs, salt, pepper, fresh chili. Mixed all together and divide into 8 balls. Coat in flour, bake until golden. Serve on brown rice.
Cashew Stir Fry – 1 small tomato, green pepper, onion, mushrooms, courgette, aubergine, spinach. 30g cashews. Fry together with coconut oil, serve on brown rice with a sprinkle of extra virgin olive oil.
Curried Mango Chicken – Palm size chicken, 2 cloves garlic finely chopped, salt, pepper, 2 tbsp curry powder, 1 cup mushrooms. 1/2 cup diced mango. Fry chicken with spices, add vegetables and cook until soft. Serve with brown rice.
Healthy Roast Chicken – Roast a whole chicken with garlic and rosemary. Serve one-third with steamed cabbage, broccoli and one spoon of mashed sweet potato. Make healthy gravy from stock and chicken jus.
So there you have it; a healthy meal plan that will give your body all the energy to give your most in the gym, as well as providing the necessary nutrition for your body to recover so you can go hard the next day, and the next day after that.
To make the most of this, try and settle into a routine that works for you so can keep your meals relatively structured. It's also very handy to cook in bulk, freeze and reheat. It is also worth taking a probiotic supplement so as to help your body digest the food you are giving it in order to make the most of the plan.
Remember, though, that this isn't fail-safe plan that will work for everyone. Depending on your weight, or activity routine, you might require more or less. But it's a good place to start whether you're a professional fighter looking to have the easiest weight cut possible, or a regular Joe looking to have a healthier lifestyle.
All that remains is to go and do it.
You can learn more about Rhiannon Lambert's nutrition advice at www.rhitrition.com
See More: Fueling Up – Conor McGregor on the diet that keeps him at the top of the fight game.
Comments
comments