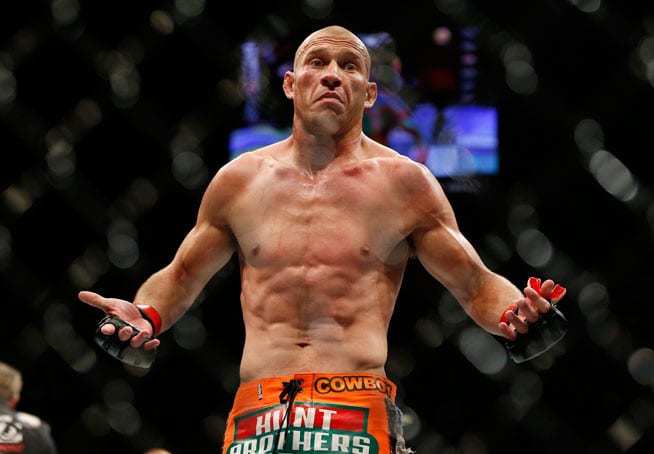 Just days after being a part of the five fighter (and Bjorn Rebney) announcement to start the latest fighter collective, the MMAAA, Donald Cerrone has put some distance between himself and the new organisation.
Speaking to media in Toronto ahead of his UFC 206 bout with Matt Brown, Cerrone seemed to retract away from a certain level of commitment that his MMAAA colleagues seemed ready to put forth.
"As far as the Association goes man, Georges [St-Pierre] and Tim [Kennedy] called me and asked me to be part of it," Cerrone said. "I didn't know I was sitting on a board. That kind of took me by surprise, sitting there like, 'oh wow'. I spoke to Dana [White] today on the phone. He's coming to town, and we're going to go out to dinner and talk. There's a lot of things I think this sport needs, you know, retirement pension, health care, things I think we need."
It seems to be something of a U-turn from the rhetoric media members heard on the call, where at one point the idea of a fighter strike was even discussed.
"I wasn't sitting there saying, 'we're moving forward today, we're going on strike, we need more money'," Cerrone continued. "That wasn't coming out of mouth at all. There were a couple of people that were there that I don't plan on working with and being a part of, not mentioning any names. I was there mostly just, not saying I'm leading a board or I'm sitting on a board, but more voicing my opinion of what this sport needs."
Yesterday during his media rounds, Dana White was repeatedly asked about his opinion on the MMAAA, and while he didn't condemn the fighters involved, he wasn't too excited about seeing Cerrone listed as one.
"I'm a little shocked, I'll tell you this, that 'Cowboy' Cerrone didn't give me a call," White said on the UFC Unfiltered podcast. "He's only headlined three fights in here career, never held the title in the WEC, never held the title in the UFC, right? And a couple years ago, he was on his boat and gets into a beef with a guy on another boat. Who does he call? He calls me? What do I do? I go out and find the best criminal defence lawyer, and spend over $100,000 of my own money for Cowboy Cerrone.
"So when I see Cowboy standing up there, I'm like 'oh really? okay'."
Those words clearly had an effect on Cowboy, who spoke with White on the phone after hearing the comments.
"Moving forward, I'm still going to stand strong with those and say this is what I believe we need," Cerrone said. "I believe as a whole we need health care, we need some kind of pension for retirement. The UFC has been nothing but great to me. I can't complain, they give me what I want. And like Dana said, I called him and he helped me out. That's true, man. I was in a bind, he got the best lawyers you can pay, and saved my ass.
"He said, listen kid, you can do anything you want. We have a good relationship him and I, and he's right I probably should have called him and said, 'hey man, I'm going to do this,' instead of getting back-handed in the face."
Comments
comments