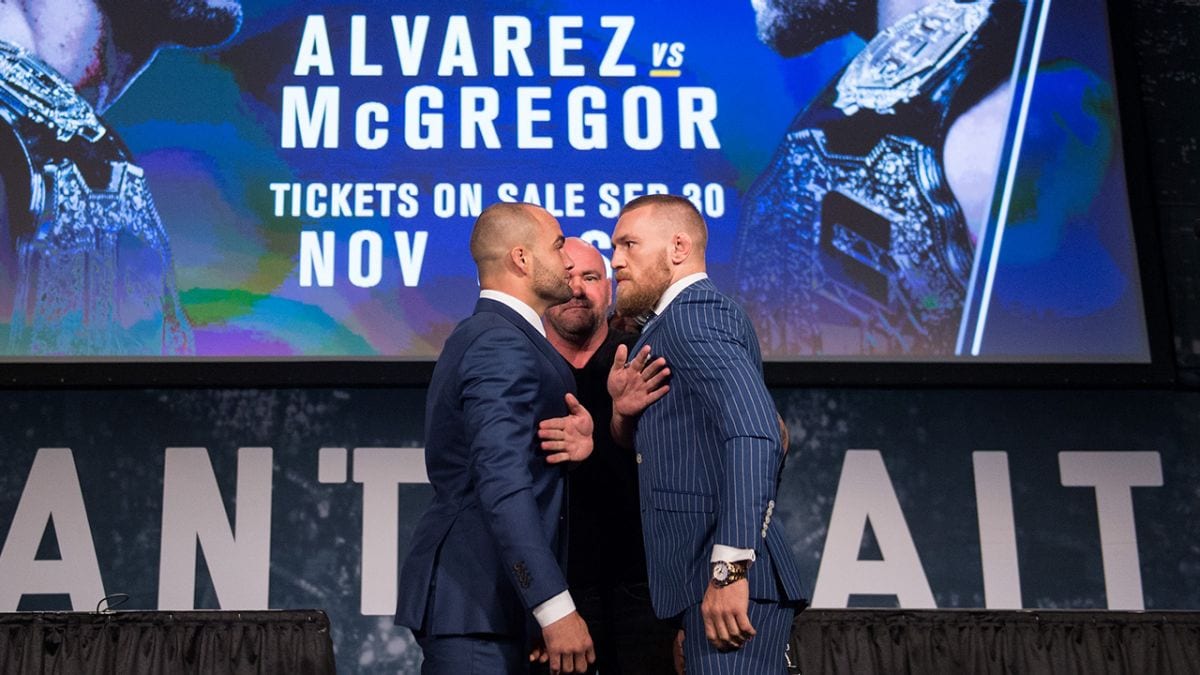 Conor McGregor has something in mind for the moment he becomes the first simultaneous two-division champion in UFC history.
McGregor is looking to add Eddie Alvarez's lightweight championship to the featherweight title which currently sits around his waist and in a live video chat to promote McGregor's participation in the new Call of Duty: Infinite Warfare video game, the Dubliner offered a tantalising tease of what might be in store.
"The whole game is going to be set alight", McGregor said on Friday evening. "The world is gonna explode inside that Octagon when I have those two belts wrapped around my shoulders at Madison Square Garden. So all I can say is stay tuned."
Speculation has been rampant in recent weeks as to what McGregor may reveal in the cage in the aftermath of the bout, ever since Dana White revealed that it would be "something out of left-field". Numerous commentators have offered their opinions, ranging from McGregor departing the sport to pursue a movie career, or the possibility of a bout with Floyd Mayweather but, in typical McGregor fashion, everyone will be kept in the dark for another few weeks at least.
As for Alvarez, McGregor had a few words for the Philadelphian ahead of the bout which is now less than four weeks away.
"It's over," McGregor warned. "They know it's over too. They're apologetic. They said this, they said that. Now it's 'He's the best striker I've ever seen. We apologise. I apologise.' Show up. Take your ass whooping. And I'll see you later."
McGregor also offered a few thoughts on the possibility of a third fight with Nate Diaz – a fighter who has said he will sit out of the UFC until the trilogy fight with McGregor is offered to him.
"There was a lot of damage done to Nathan in that last fight," McGregor said. "Even looking at his facial features, they are not the same. So I know those close to him will understand what I'm talking about. So there could be a potential fight down the line, maybe for the lightweight belt after I win it. But to see him have to make the weight and then to see the damage he took in the last fight…And then to see him have to come in at a much lower weight. It wouldn't end good for him.
"It's done now. Cash your money and bounce. But If I call him, I call him. We'll see what happens."
Make sure to subscribe to the official The Mac Life YouTube Channel for more exclusive behind the scenes content coming very soon!
Comments
comments