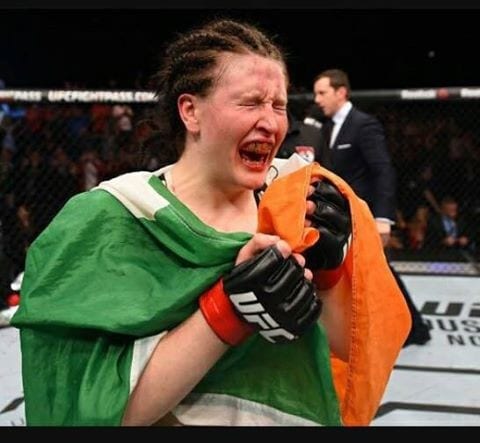 Aisling Daly, an SBG stalwart and the first Irish woman to compete in the UFC has announced her retirement from mixed martial arts.
The 'Queen of Irish MMA' took to social media Monday evening and revealed that due to medical reasons, it's unlikely she would be cleared to compete any longer.
Because of that, she would be leaving active competition behind.
"I've been sitting on this for the past while and it's about time I made it official. I will be retiring from the sport of MMA," Daly posted on her personal Facebook page.
"This past year a routine brain scan showed up evidence of an abnormality, the remnant of a small haemorrhage that had taken place at some point in the months previous. It would be unlikely I would be medically cleared to compete again, even in the event I could find a doctor who would clear me it would be very unwise for me to continue to compete with the risks involved.
'My career has ended prematurely but I'm very grateful for my long list of achievements, I am and will always be 'Ais the first' for so many things, my legacy set in stone in the history of Irish mixed martial arts. I am the countries first ever world champion, the first and only female to ever do it. I'm very proud of the barriers I've broken down and the doors I have opened to others coming behind me both male and female. I have and always will give back to the sport which has given me so much.
"I would like to thank from the bottom of my heart the fans who have supported me tirelessly through various parts of the journey. It has been one hell of a ride. Without this support there is no sport of MMA as we know it.
"I would like to thank my good friends and close team mates, those not bound by blood but whom I still consider family who have helped me through this difficult time and throughout my career. There is no substitute for the genuine loyalty built between people over years of blood, sweat and tears.
"I am truly my most grateful for my wonderful family, who were there to pick up the pieces throughout my entire carreer and especially now when my dream fell apart. This would have been intolerable without their help, emotionally and financially. They say you can't choose family but I would want no other.
"I could not have picked a better night to end my fighting career than the night of UFC Dublin, from the spine tingling walk out, the war of a fight, to the emotional victory, the culmination of a career's work. To be an Irish woman competing in the premier league of mixed martial arts her in home town. The experience will likely not be rivalled in my life time. The perfect farewell even if I didn't know it at the time. MMA competion was always going to be just a part of my life, and what a thrilling chapter it was.
"Now starts the next chapter of my life. I'm very fortunate to have grown up within such an outstanding organisation as SBG. I am equipped with the skills to be an exceptional coach and member of the martial arts community and I look forward to seeing what challenges lie ahead for me."
Daly came to the UFC on the back of a season in The Ultimate Fighter house as a part of the first ever batch of UFC strawweight division, while she didn't win the competition, she gained a large fan following from her countrymen and women.
Daly retires with a record of 16-6, and is considered a pioneer of women's MMA in Ireland.
Comments
comments