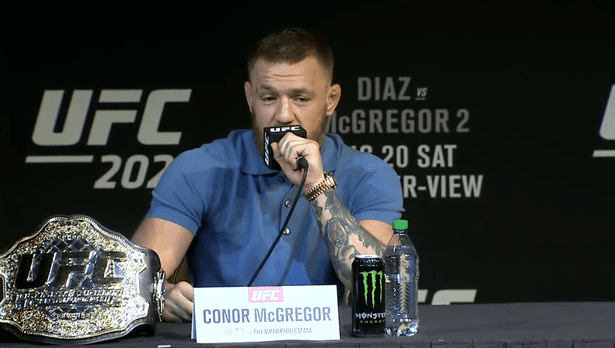 When Conor McGregor's UFC featherweight title was reported as 'relinquished' last December, most weren't buying the narrative.
Instead, it seemed that without a pay-per-view worthy main event for UFC 206 following an injury to Daniel Cormier, the UFC elected to take the belt from McGregor and award it to Jose Aldo, meaning Max Holloway and Anthony Pettis could fight for an interim equivalent.
When pushed on the issue, UFC President Dana White cited McGregor's upcoming child as a factor that would keep the Irishman out of the cage, and that he had spoken with McGregor about giving up one of the belts prior to UFC 205.
Speaking at the "an event with" event last Saturday, McGregor revealed that with his newborn son being born in May, he would have likely been able to fit one more contest to defend the featherweight title before fatherhood began.
"All they had to do was ask," McGregor said. "If they had actually came to me and said, 'Conor, I know you're prepared to have a baby, I know you're chilling. If you want to fight for this featherweight belt in March..' just a nice time. I would've went in and would've slapped Holloway or this guy he's fighting, or Aldo, or whoever they wanted. No problem. All they had to do was ask. Instead, they created an interim belt. They gave back the unified belt to a guy I KO'd in 13 seconds. A guy I dominated is now the interim [champion].
"Look, I was almost a little bit embarrassed for the way it was playing out. Like, is that really how bad it's gone, that you guys need to kinda create all this fake stuff to sell some stuff? But it [UFC 206] still sold shit. It still sold nothing, so I don't know."
At the end of the day however, McGregor remains unfazed by the entire affair. In his eyes, while the UFC are able to take the featherweight title from him on their website, no-one has been able to do so in person.
"Keyboard warriors, they can type anything and people think [it's real]," he said. "That ain't real. You said that they wrote out a press release. What did they do? Did they send that army? Did they physically take that belt from me? Has anyone laid a finger on me to take that second belt, or the first belt? No, I'm still a two-weight world champion, make no mistake about it.
"At the end of the day, my shadow looms large over all of that featherweight division, over all of the lightweight division, over all the entire the UFC. So they can try and fool the fans all they want, but the fans know. They know what's what."
Comments
comments