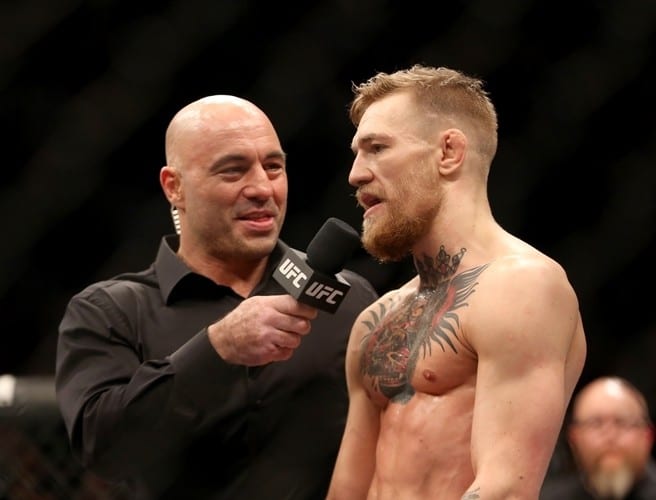 Ever since whispers first emerged in last May of a cross-sport bout between the two, the names Conor McGregor and Floyd Mayweather have been almost inseparable in the media. Both fighters have continuously fanned the flames of speculation as to when — or more appropriately if — a boxing match between the world two most famous combat sports athletes can actually take place.
As is public knowledge, Conor McGregor recently applied for and was granted a boxing license in the state of California and has said as recently as last weekend that he is chasing one in Nevada, too. As a licensed boxer, McGregor is now covered by the Ali Act — legislation brought into effect in 2000 to safeguard the rights of boxers against mistreatment from promoters, among others.
Speaking at a Q&A in Manchester last Saturday, McGregor commented that the Ali Act may pave the way for an historic bout with Mayweather, given that the Act protects boxers from being denied the chance to compete, a perceived "restraint of trade."
Speaking on his podcast The Joe Rogan Experience, Rogan said that with the Ali Act in place and the newly-announced McGregor Promotions behind it, a boxing match between McGregor and Mayweather is looking closer than ever before.
"He said he believes that with the Ali Act he can actually do it because it's a different sport. It's an interesting argument because it's not MMA, it's boxing. It's not just with Floyd, it's with McGregor Promotions now", Rogan said.
"He's got his own thing; he wants to co-promote. It's going to become what boxing because it's star-driven. When it's star-driven, guys like Conor — who are legitimate stars — have the leverage. They're going to manipulate that leverage, use that leverage and we'll see what happens.
Given the comments from McGregor, in which he said that he foresees his next bout being inside a boxing ring rather than the UFC's octagon, as well as Mayweather's seemingly renewed interest in making a deal between the two biggest box office draws in combat sports, the rivalry between the two fighters has been very much renewed.
And, as Rogan puts it, no one has ever approached a bout with Floyd Mayweather in the same way as Conor McGregor.
"McGregor said something interesting. He said, 'Fuck UFC. Fuck boxing. If this was an actual fight I would kill him. It's a joke. So we're going to limit it to hands and you'll play your little game. OK, let's do it.' That's interesting because it plays with the ego and he's the only guy that could ever say that to Floyd that Floyd has ever faced.
"Here's the other X-Factor. It happens in every sport; guys get old overnight. Floyd's 39 now. For some guys it takes longer, some guys it takes shorter."
Comments
comments