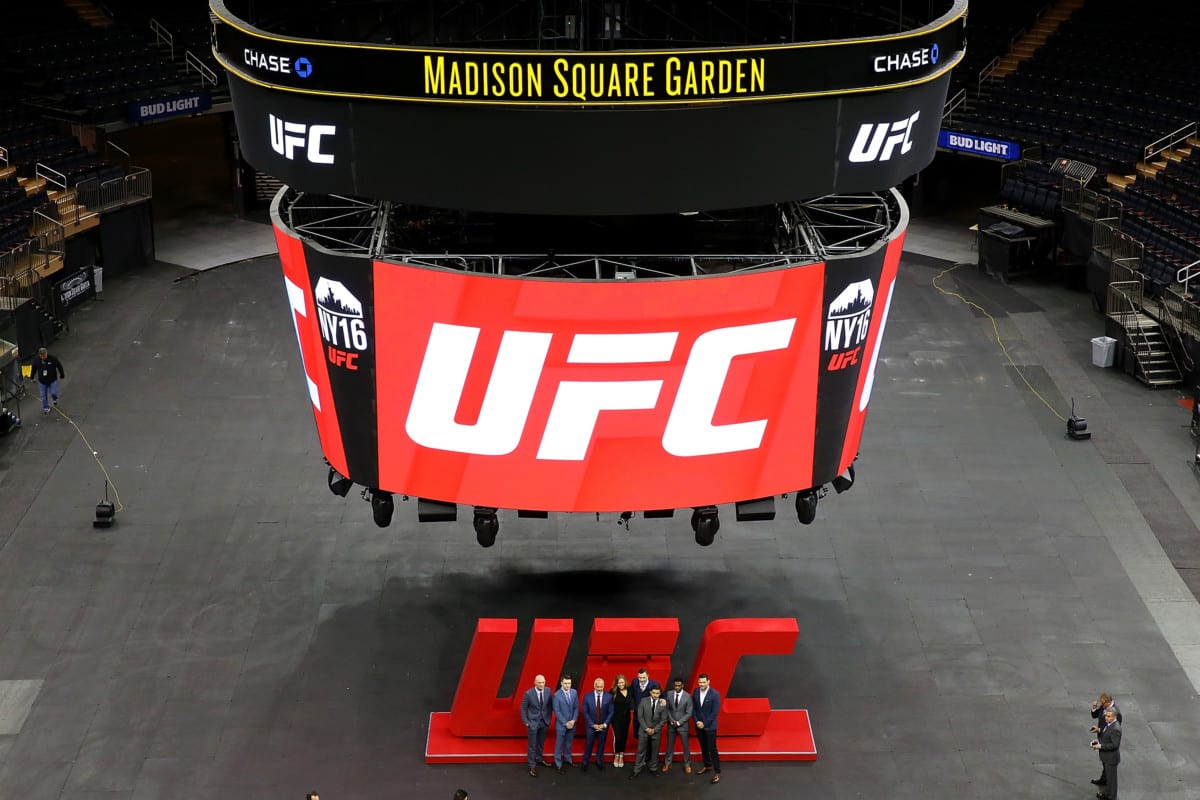 All the buzz this week is about the UFC's first event being hosted in New York, a mega card taking place at Madison Square Garden. For the UFC this is a huge victory after an almost 20 year ban on the sport. Dana White personally led the charge and has spent years lobbying for New York to allow the UFC to host bouts in their state. Despite a long and difficult road to legalisation, many were in favor of lifting the ban and Saturday's fights in New York are largely seen as a victory party for the sport. As the world prepares for a historic night at Madison Square Garden, the question now becomes trying to understand who benefits most and what repercussions we may see from the MMA operating in the State of New York.
The clear winner in the lifted MMA ban is the UFC and other organizations such as Bellator and World Series of Fighting. With such a huge market going untapped for years, it is clear that adding New York to the UFC's rotation of fight locations is going to be a huge source of revenue and publicity. The UFC clearly believes in this opportunity as they have poured everything they could into making Saturday's New York event a huge success. The UFC has compiled arguably the biggest card in MMA history, headlined by three title fights including the UFC's biggest star, Conor McGregor. With the amount of talent combined on this card we can only imagine the large financial investment that the UFC is making on this event.
Dana White commented on this recently, "You start getting pushback from the bean counters that work for us, like, 'Wait a minute, there's way too much money on this card.' I don't give a [expletive]. I want people to remember the first time we rolled into MSG." In addition to shelling out a lot of money to compile such a strong card, the UFC also had to deal with the cost of securing insurance policies for all of the fighters. The bill that passed requires promoters to secure a $1 million insurance policy per fighter, per match in an effort to protect an athlete in the event of a traumatic brain injury. This insurance policy is just one of the many costs that the UFC has shouldered in order to make UFC 205 a reality. The UFC is betting big on New York, and are opening with a bang on Saturday. There is a lot of upside for the organisation and if early revenue numbers for UFC 205 are any indication, it is a great gamble.
Another group that stands to profit from Saturday's mega card is New York. The state itself has largely been in favour of lifting the ban recently, mainly for the simple reason of revenue. MMA is a rapidly growing sport, and the UFC's recent $4-billion-dollar sale is a huge indicator of that growth. As UFC annual revenues continue to grow, it is clear why New York would want a piece of the action. Governor of New York, Andrew Cuomo, said as much "I do support mixed martial arts because it's also an economic generator." New York stands to profit handsomely from the upcoming UFC and Bellator fights being hosted in the state.
With Dana White already predicting a record breaking gate for the UFC and for Madison Square Garden, the tax revenue should be huge for New York. If UFC 205 delivers on Dana White's promise, then the gate revenue alone could surpass $13 million. The largest live gate for a combat sports event at MSG is a 1999 boxing match between Lennox Lewis and Evander Holyfield that brought in a gate of $13.5 million. Language in the bill to legalize MMA in New York State calls for collecting 8.5 percent tax on ticket sales. In addition to the revenues from the gate, New York will also see revenue from concessions, tourism, broadcast fees, and fighter salaries.
Which brings us to the final piece of the puzzle, and the most important, the fighters. More options for MMA events, record breaking revenues, and more media attention are all positive things for fighters in the sport. We saw the fighters themselves join the debate for lifting the ban, most notably New York native, Chris Weidman. Chris Weidman tweeted following the ban being lifted, "I have waited a long time for today and couldn't be more excited to have MMA legal in my hometown of New York!!"
I've waited a long time for today and couldn't be more excited to have MMA legal in my hometown of New York!! pic.twitter.com/uoxIpPbcQ4

— Chris Weidman (@ChrisWeidmanUFC) March 22, 2016
Similar sentiment was obvious around the sport as fighter after fighter lobbied to make it on the UFC 205 card. There is no doubt that the epic event at Madison Square Garden on Saturday is going to be hugely profitable for fighters, not to mention the added exposure and media attention that they will receive. The biggest card in MMA history, headlined by Conor McGregor, will ensure big paydays and PPV points for fighters. Top fighters in the sport were even lobbying to be added to the undercard in an effort to be a part of the historic event that will surely bring new fans to the sport and provide exposure to the fighters. But we must look past UFC 205 and try to evaluate the state of New York as venue for MMA in the long term. When looking at the potential and risk, it must be pointed out that New York has a much higher Income Tax than other states such as Nevada. New York is among the states with the nation's highest tax rates, a fact that will surely hit fighter's pocketbooks come tax season. For fighters used to paying state income taxes in Nevada, New York will come as a shock. Nevada currently has no state income tax and that can make a huge difference for fighters who are already responsible for a handful of costs such as training camps, agents, nutritionists, self-promotion, and much more. New York will see state income tax rates for fighters of 6% going up to almost 9%, depending on the annual income. For fighters such as Conor McGregor and others who stand to bring in six or seven figure paydays, a 9% tax is not trivial. Despite the high taxes, fighters seem eager to be a part of the UFC's showcase at Madison Square Garden in Saturday, proving that the benefits likely outweigh the costs.
Despite the higher taxes, the lifted ban on MMA in New York is overwhelmingly a good thing for the sport. The market for MMA has grown and many stand to profit from the expansion. The state of New York stands to bring in new revenue, the UFC will profit from a growing market, and even fighters who take on more taxes should see benefits from a growing market and increased fan exposure. Regardless of how this plays out in the long run, there is no doubt that Saturday night will be a financial success and a historic event for the sport of MMA.
Words by Will Lehrmann
Comments
comments