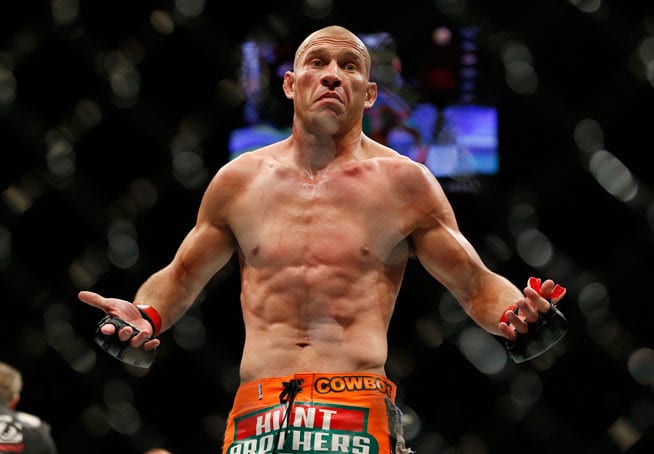 Donald "Cowboy" Cerrone has never been afraid to speak his mind, and now he's taking that mindset into politics.
Well, the politics of the fight game. Recently the New Mexico-based fighter has been discussing the need for a fighters' union, and he's used the media week leading up to his bout with Kelvin Gastelum on Saturday's 205 card to highlight this even further.
Having already spoken at a media luncheon about the need for such a union to be established, his interview with MMAFighting's Ariel Helwani was heavily dominated by the subject.
"Just like Roosevelt said, if I'm gonna work in a factory, I'm gonna be part of a union, so something needs to be done. I'm coming up in a couple years on my 10 year mark, if I was in any other sport, 10 years, I'd have a pension, I'd have retirement, I'd have something".
While adamant about the need for a union, and open about his willingness to be the face of it Cerrone was clear that despite his willingness to take part, he knows little about the subject.
"I don't know anything about unions, so I've never been in a union, never been part of a union, if somebody ever came to me with some kind of questions I would have no idea. So, since I openly said that, I've had a couple people who are trying to create unions call me and contact me, and I said 'listen I got to sit down with you guys, I got to understand, first off what me and the other fighters are looking for, and what you guys are trying to address because I know nothing'.
"It's just something that needs to be done, and I feel like we need a face to do it so it's f***ing time."
"We gotta do something", said Cerrone. "I think a lot of fighters are involved, man. It's gonna be a revolution".
When quizzed on the timeline for the establishment of a union the Greg Jackson fighter couldn't reiterated that he wasn't sure about the details, but was hopeful of it taking place in 2017.
Comments
comments