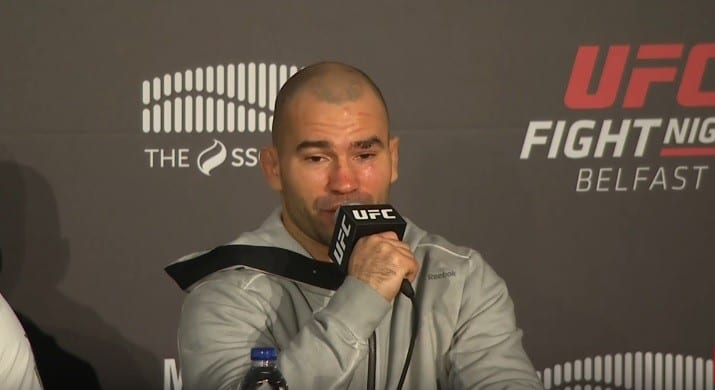 Artem Lobov earned his second successive win in the UFC in Belfast on Saturday night. 'The Russian Hammer' won a unanimous decision victory over highly-rated Japanese prospect Teruto Ishihara, dominating throughout the majority of three rounds.
Despite not getting the knockout finish his style of fighting so often delivers Lobov, an Ultimate Fighter finalist, was happy with his night's work.
"It certainly was one of the best performances [of my career]", Lobov said in the post-fight press conference. "I always feel that the higher level of opposition I've faced the better my performances get. I look forward to taking another step up. I think I'm going to have an even better performance then.
"A lot of people have said to me about UFC London but if I'm honest, I could probably get another five fights between now and UFC London. Let's do it. I'm free next Saturday."
The Russian Hammer was the biggest crowd favourite of the night, with every blow he landed received with rapturous applause from the more than 7,000 fans in the SSE Arena. The biggest ovation of the night, however, was reserved for the moment when Lobov's SBG teammate and newly-crowned double UFC champion Conor McGregor joined Lobov in the cage after the fight.
McGregor played the role of unofficial cornerman throughout the contest, issuing advice and instructions throughout the fight. But according to Lobov, the post-fight cage jump almost never happened.
"I could see him. I even turned around and acknowledged him between the rounds. It was great having him there. It felt just like on The Ultimate Fighter.
"He wasn't going to [jump the fence] I don't think but I just kept screaming 'jump that fence' and he was debating whether to do it but I just kept hitting it and saying 'jump that fucking fence, jump it now'. I wanted to celebrate his win, I wanted to celebrate my win. It was just a great moment."
You can watch the press conference in full below.
Comments
comments