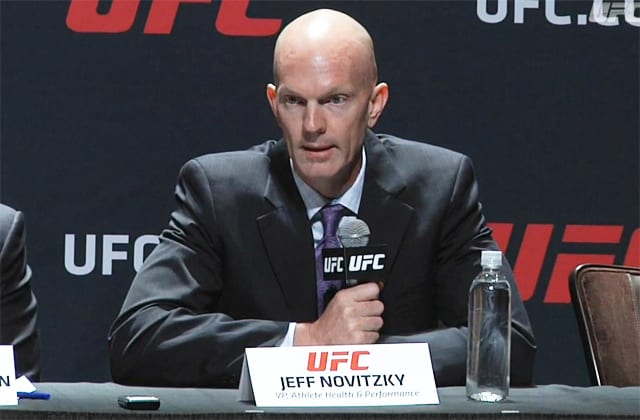 It looks like we might be seeing even more USADA related headlines in the future.
The organisation, hired by the UFC to carry out third party tests to catch athletes taking performance enhancing substances, has certainly made its mark of late. With high profile names (see below) failing tests, any skepticism of USADA's effectiveness seems to have faded. And now, with new comments by the man leading the charge, Jeff Novitzky, it seems things are only just beginning.
"We're very happy with where the program is, considering we started from scratch," said Novitzky, speaking with MMAFighting following a conference with the Association of Boxing Commissions (ABC) on Wednesday. "I'm amazed the progress that we've had getting this off the ground. This will be the first quarter, the third quarter of 2016, where we have a fully implemented program."
Currently, the organisation has conducted around 450 to 550 drug tests a quarter in 2016. Entering into the third quarter, however, USADA aim to up that number and carry out closer to 700 tests.
Recent USADA cases have been hard on the UFC.
First, the main event of mega-event UFC 200 was altered after Jon Jones failed a drug test just days before his fight with Daniel Cormier. Following the same event, Brock Lesnar failed his post-fight test. And then most recently, Chad Mendes was suspended for two years by USADA for failing a test for Human Growth Hormone.
Though it's not something Novitzky is necessarily happy about.
"Let me be clear: Just because this is my program, those days and those occurrences are challenging," Novitsky said. "I never want to see that happen. I don't take any pleasure that the program is working, seeing that happen. Sometimes one or two of those needs to happen for everybody to open their eyes. If anybody had any reservations about the seriousness, about the independence of the program, that it doesn't matter if you're the first on the depth chart of the roster or the last you're going to be treated the same under this program."
"A perfectly successful program is where the deterrent is on the front end and they realize how comprehensive it is and they realize what the penalty is going to be if they test positive and say, I'm gonna make the decision not to dope on the front end rather than catching them on the back end," Novitzky said. "But the reality is sometimes it takes a few of those hard lessons to happen for everybody to get the message that this is real and this isn't on paper or a theory. This is a real program where you're seeing the main event of UFC 200 be pulled because of a potential violation."
Comments
comments