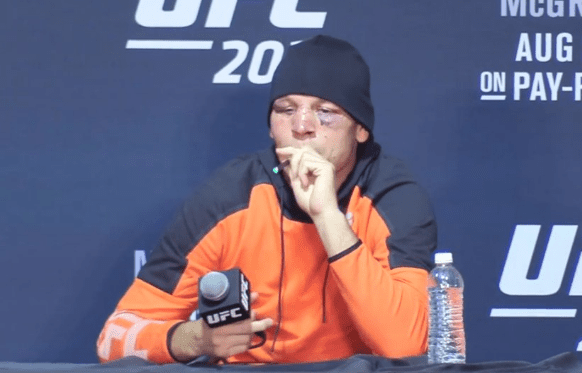 Nate Diaz will not be punished for his usage of CBD oil following his fight with Conor McGregor at UFC 202.
At the post-fight press conference, Diaz was seen (and discussing) vaping the cannabinoid. All cannabinoids (113 in total) are banned in-competition by WADA, which consists of six hours before weigh-ins and six hours after the fight takes place.
Today, USADA released a statement detailing that they had investigated Diaz, and had deemed a 'public warning' to be a suitable enough end to the conversation.
"As part of its results management process, USADA gathered information and communicated with the athlete about the circumstances of his use of Cannabidiol on August 20, 2016," read the USADA statement.
"USADA concluded that Diaz mistakenly believed that the in-competition period ended after he provided a post-bout sample to USADA. In addition, the in-competition urine and blood samples provided by Diaz before his admitted use were analyzed and reported as negative for all prohibited substances, including Cannabinoids. Based on these circumstances, USADA determined that a public warning was an appropriate response to Diaz's use of a specified substance during the in-competition period."
Comments
comments