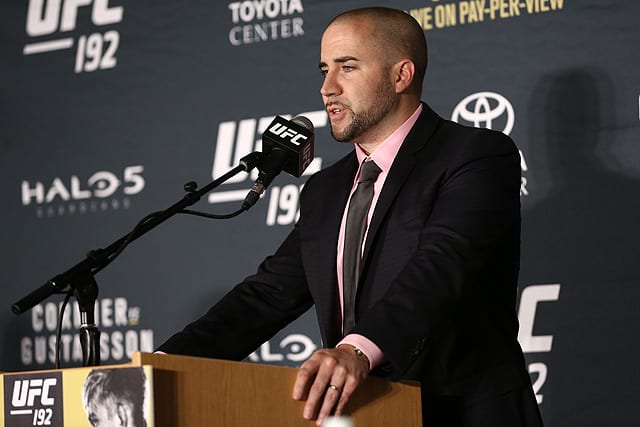 Dave Sholler, the UFC Vice President of Public Relations, has announced his intentions to leave the company.
UFC President Dana White first made the news public on FS1's "TUF Talk". Sholler is the second highest profile member of staff to leave the organisation since the new owners came in. In August, it was announced that longtime matchmaker Joe Silva was set to retire at the end of the year.
In recent years, Sholler had made more public appearances, with White beginning to leave the post-fight conferences to be moderated by other staff. He has been with Zuffa and the UFC since 2009.
Taking to Twitter, Sholler confirmed the news, and revealed he was to be joining the Philadelphia 76ers, his childhood team.
As Dana just announced on @FS1, I'm heading home. I've accepted a job w/ my hometown team, the @Sixers. This has been the ride of a lifetime

— Dave Sholler (@DaveSholler) October 13, 2016
It's time to go home, to the organization I grew up rooting for. Will miss fight game very, very much, but excited for the new challenge.

— Dave Sholler (@DaveSholler) October 13, 2016
Thank you ALL for the kind words. Amazing. Truly. Thank you. I'm closing this chapter with one final event: #UFC205 😉

— Dave Sholler (@DaveSholler) October 13, 2016
Perhaps the most memorable moment in Sholler's career is one he'd like to forget. As Daniel Cormier and Jon Jones engaged in their famous scuffle in the lead up to UFC 178, Sholler was the man in the middle who tried – and failed – to stop the two from coming to blows.
Comments
comments