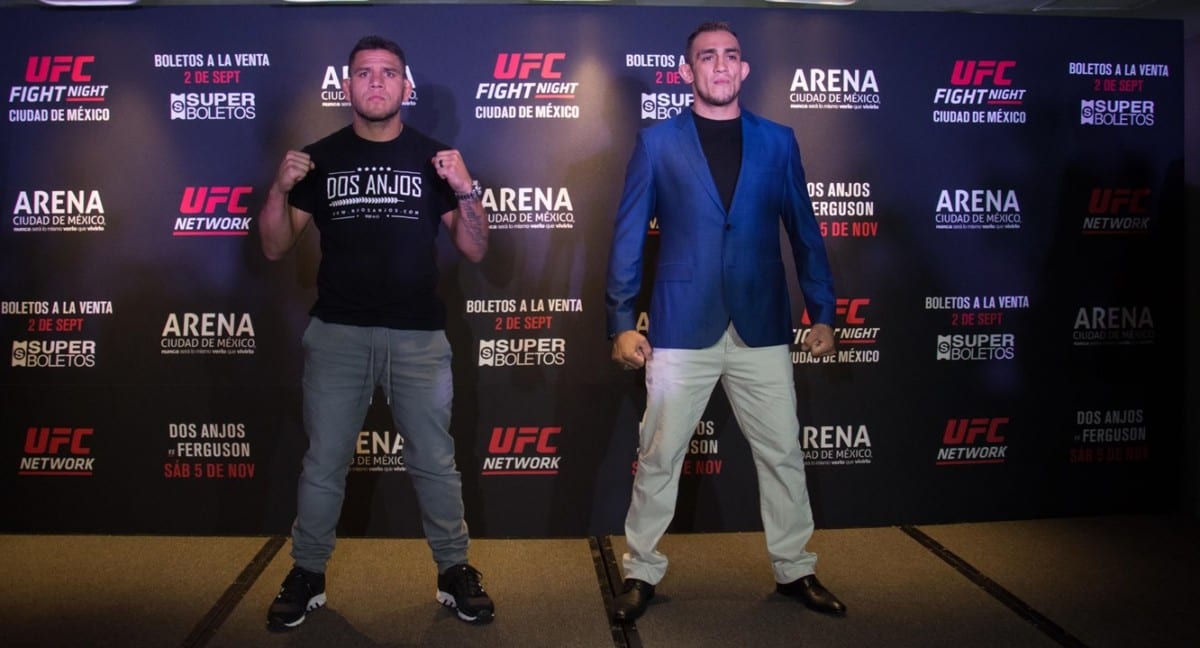 If next weekend's UFC 205 is the main helping of mixed martial arts action taking place this month, then Saturday night's UFC Fight Night 98 card from Mexico City is pretty tasty appetiser.
The main event features a clash between two of the top lightweights in the world today. Former champion Rafael Dos Anjos will be looking to get back on track after dropping the belt earlier this year, while Tony Ferguson is hoping to extend the winning streak which has seen him have his hand raised in his last eight bouts.
Here are our picks for Saturday night's action, thanks to Will Ortega.
Lightweight – #2 Rafael dos Anjos vs. #3 Tony Ferguson
Rafael dos Anjos has been on quite a roller coaster the past year, beginning with a scheduled bout against Conor McGregor for the Lightweight title. Dos Anjos was primed for the biggest fight of his career, the biggest payday of his career, and a chance to defend the belt against the most popular fighter in the UFC. Dos Anjos pulled out at the last minute due to injury which opened the door for Nate Diaz to step in and create one of the most compelling rivalries in MMA. Dos Anjos got back to work after his injury with a title defense against two time Bellator Lightweight champion Eddie Alvarez. Rafael was stunned in that fight and lost to Alaverez in the first round (TKO – Punches). Dos Anjos steps into this fight fresh off that difficult loss, but prior to the loss he was coming off of a 5 fight win streak that included Donald Cerrone, Anthony Pettis, Nate Diaz, and Benson Henderson. Dos Anjos has also won 10 of his last 12 fights with the only losses coming from undefeated and #1 ranked Khabib Nurmagomedov, and current Lightweight champion Eddie Alvarez. Despite his recent loss, Rafael Dos Anjos is one of the greatest fighters of all time, in the prime of his career, and is surely looking for redemption on Nov. 5th against Tony Ferguson.
Tony Ferguson is the #3 ranked Lightweight contender, and hasn't lost in the octagon since 2012. Ferguson is coming off of an eight fight win streak and is looking to put himself into title contention with a win over #2 ranked Dos Anjos. Although his recent fights have been tough, Ferguson has not faced the same level of talent as Dos Anjos, and will likely get the toughest test of his career on Saturday. Ferguson said as much recently "The only legit fighters that I really faced are Josh Thomson and Edson Barboza. They gave me the fight that I needed and I hope these top three can give me what I need. Cause I'm skill building. Each and every fight, I get better and better." With #1 ranked Khabib Nurmagomedov holding down the top contender spot, this bout is set to determine who will claim #2 and jump into the discussion for a title shot with the winner of the Conor McGregor and Eddie Alvarez bout at UFC 205. Rafael Dos Anjos is a huge test for Ferguson and it should be an opportunity to see how he stacks up with the elite fighters of the Lightweight division.
Prediction: Ferguson is on a roll lately and appears to have all the confidence in the world, not to mention a six-inch reach advantage. Rafael dos Anjos is fresh off a devastating loss and has a lot to prove. The difference will come from the experience of Dos Anjos. With a handful of tough bouts against elite fighters, Dos Anjos has more experience at this level and should be more comfortable in the headline fight. A determined Dos Anjos, looking for redemption, will prove too much for Ferguson and grab a victory in a close fight. – Dos Anjos – Decision (unanimous).
Lightweight – TUF Final – Martín Bravo vs. Claudio Puelles
Despite the many popular fighters on this card, many will be eagerly watching to see who emerges as the TUF Latin America 3 champion. Although these two young fighters are far from household names, they are both extremely talented and set to prove themselves in the octagon. Martin bravo is 23 years old and comes into the fight with a perfect 10-0 MMA record. He will try to remain undefeated against the taller Claudio Puelles who comes into the fight with a 7-1 record. Martin Bravo has finished five of his ten fights via submission, and will likely look to take Puelles to the ground where he has the advantage. Although Bravo has the better record, the 20-year-old Claudio Puelles had a pair of impressive stoppages in the TUF tournament and will look to carry that momentum into this fight.
Prediction: Claudio Puelles may have more potential, but at only 20 years old he is the most likely to feel the pressure of the big stage and bright lights. Martin Bravo will withstand some early attacks and will finish Puelles on the ground. – Martín Bravo – Submission (Rear Naked Choke).
Lightweight – Diego Sanchez vs. Marcin Held
The fight between 34 year old Diego Sanchez and 24 year old Marcin Held displays an MMA veteran fighter facing an up and coming talent. Diego Sanchez is no stranger to the octagon and has been involved in a handful of tough fights against top tier UFC talent. In his last seven bouts Sanchez has picked up impressive wins against Takanori Gomi, Ross Pearson, and Jim Miller. During that same stretch he lost four fights to Jake Ellenberger, Gilbert Melendez, Ricardo Lamas, and most recently Joe Lauzon. Although every one of those fighters are tough, at 34 years old Diego Sanchez is in desperate need of a big win. Sanchez was the winner of TUF season 1, and will look to turn back the clock against Marcin Held. Held is entering the UFC octagon for the first time on Saturday after a long stretch fighting for Bellator. At only 24 years old, Held has a lot of potential and will try to use this stage as a launching pad for his UFC career. Although Held has been fighting in Bellator, he is not without tough fights under his belt. In 2015 Marcin Held lost a tough decision to ex Bellator champion Will Brooks. Held bounced back from this tough loss by defeating Dave Jansen.
Prediction: Diego Sanchez is the more experienced fighter and has a long history of facing tough opponents in the UFC. In desperate need of a win and some momentum, Sanchez will be looking to overwhelm Held in his first UFC fight. Marcin Held is young, and has a tendency to be overly aggressive early. Sanchez will control the fight early and look to counter the aggressive Held. If Marcin Held can control his energy, he will find an opening late in the fight and finish Sanchez. – Marcin Held Submission (heel hook)
Featherweight – #4 Ricardo Lamas vs. #8 Charles Oliveira
This featherweight bout is a battle to remain in the top contender conversation as #4 Ricardo Lamas will face off with #8 ranked Charles Oliveira. Lamas will try to bounce back from his defeat to Max Halloway, and Charles Oliveira will try to return to form after dropping two of his last three fights to Max Halloway and Anthony Pettis. Lamas and Oliveira are both dynamic strikers who pose a constant offensive threat. Lamas is an accomplished fighter who has lost only 3 of his last 10 fights, all of which were against elite level talent. Lamas has dangerous striking and puts a lot of pressure on his opponents, although he has not been as effective when dealing with fighters such as Jose Aldo, Chad Mendez, and Max Halloway. Charles Oliveira is equally as dangerous but has dealt with the same struggles when facing top tier opponents. Both Lamas and Oliveira have a shot to win this fight, what will be more interesting is to see if one of them is able to dominate the fight. As both struggle to break through into the top tier of a talented Featherweight division, we will look to see who shows that they can compete with the elite fighters in the UFC.
Prediction: This is truly a toss-up as both fighters pose real threats, but also struggle when facing tough opponents. Both fighters have lost two of their last three and are coming off of losses. The veteran Ricardo Lamas will use his extensive experience to outlast Oliveira in a close fight that goes the distance. – Ricardo Lamas – Decision (unanimous)
Lightweight – 9. Beneil Dariush vs. 15. Rashid Magomedov
Beneil Dariush and Rashid Magomedov are both fighters with huge potential and very few losses on their record. Rashid Magomedov has dealt with a handful of injuries recently, but has not lost a fight in 7 years, and is undefeated in the UFC. Beneil Dariush has spent his last nine fights in the UFC and has only lost twice. Dariush is the superior grappler and will try to get Magomedov close and take the fight to the ground. Magomedov is a talented striker and will have the advantage if he can keep his distance and pick his shots. This is an extremely exciting fight that showcases two dangerous up and coming contenders hoping to move up the rankings.
Prediction: Rashid Magomedov may not fight as often as Dariush, but he hasn't seen a loss since 2010. It is hard to see this fight going any other way than for Magomedov. This fight still has the potential for fireworks as it will likely go the distance, giving Dariush plenty of opportunities to finish the fight. – Rashid Magomedov – Decision (unanimous).
Strawweight(W) – Alexa Grasso vs. Heather Jo Clark
Exciting young fighter Alexa Grasso will step into the UFC for the first time on Saturday and will face veteran Heather Jo Clark. Although Clark is tough, this fight is clearly about Grasso. A native of Guadalajara, Mexico, Grasso is debuting with the UFC in her home territory, and brings an undefeated MMA record with her. At only 23 years old, Grasso is already one of the most exciting woman fighters in Mexico. Grasso has a lot of potential to compete at the Strawweight division and this is a great opportunity for her first fight in the UFC.
Prediction: Although Grasso has only finished half of her fights, this one will not go the distance. Alexa Grasso will give the home crowd a show in her UFC debut and finish Clark early. – Alexa Grasso – TKO (Punches)
Comments
comments