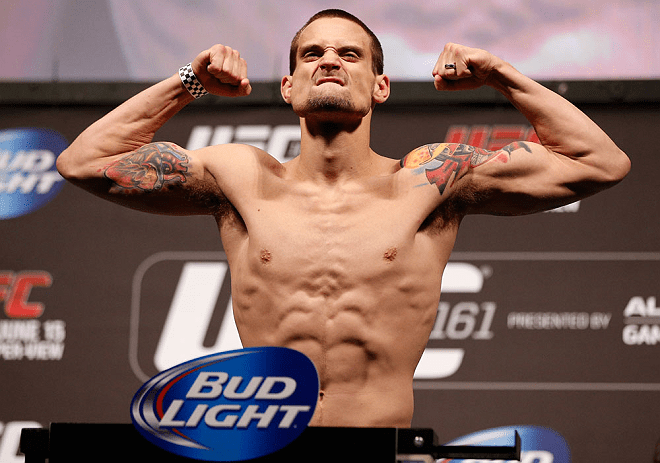 Well, here we go again.
After it emerged last week that an ankle injury was forcing Gunnar Nelson out of the UFC Belfast main event, similar news has struck down the co-main event today after James Krause revealed on social media that he has withdrawn from his scheduled bout with Ross Pearson.
Krause (23-7) released the news in a posting on his Instagram account early on Wednesday, saying that he was "greatly disappointed" at the news.
"It is with great disappointment and frustration that I make this post announcing that I'm forced to withdraw from my UFC Belfast bout with Ross Pearson…again", Krause wrote.
"Monday morning during wrestling practice I tore my hamstring for what the doctor says is a 'high grade', substantial tear in 3 different spots to my hamstring. This is 2 camps in a row, and against Ross that I've had to withdraw from so my greatest apologies to him. This is not my norm and I pride myself on fighting any opposition that's been offered to me. That being said during these training camps I've made a lot of progress and am very excited to show my improvements whoever and whenever that time comes.
"Once again, my deepest apologies to @rosstherealdeal and the @ufc.
I'll be back soon enough."
Krause was coming off two straight wins against Shane Campbell and Daron Cruickshank coming into his scheduled clash with Pearson. It is unclear at this stage if the bout will be rescheduled, or if another opponent will be sought for the Brit.
UFC Lightweight Paul Felder has already put his name forward to take the open slot but we wait for official word from the UFC as to their plans to repair the card for the organisation's first visit to Belfast since 2007.
I'll be in town? Could make 170?? Lol https://t.co/Dyc85mlKr3

— Paul Felder (@felderpaul) October 26, 2016
**Update**
According to WhoaTV, Scotland's Stevie Ray will replace Krause against Pearson. There is no word yet as to whether the bout will remain as the co-main event.
Comments
comments