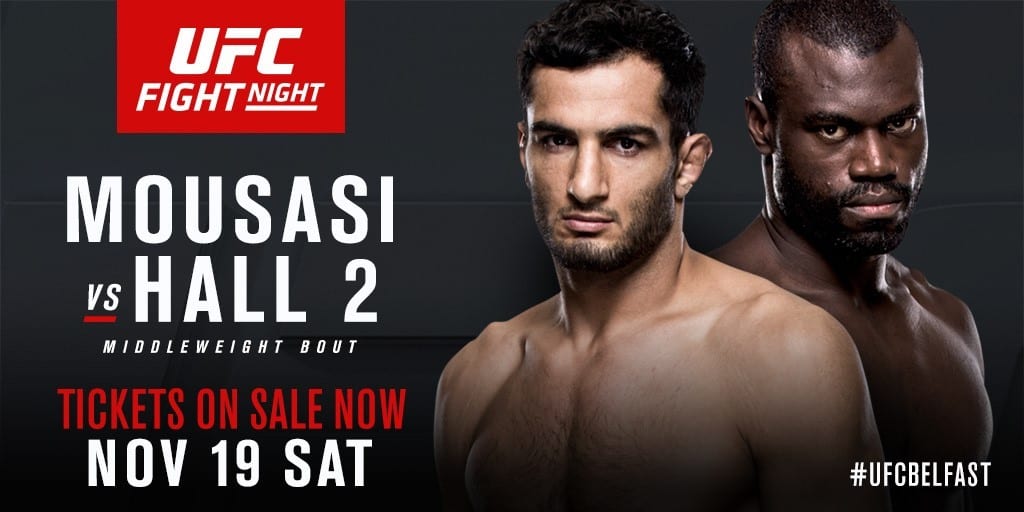 After the historic card last weekend in Madison Square Garden, it's time for matters a little closer to home as the UFC makes its return to Belfast for the first time since the summer of 2007.
While that card featured the likes of Rich Franklin, Forrest Griffin and Clay Guida, this time around the UFC have presented the fans with a more European flavour with numerous prospects from this part of the world given their opportunity to showcase skills on the biggest stage of them all.
The card suffered a blow when Gunnar Nelson was forced to pull out of his bout with South Korea's Dong Hyun Kim with an ankle injury and a rematch between Gegard Mousasi and Uriah Hall has been placed in its stead. Then, this morning, we learned that Ian McCall withdrew from his fight with Neil Seery due to illness.
Despite those setbacks, the card remains an interesting one – in particular for SBG fighters Artem Lobov and Charlie Ward.
See below for our official predictions.
Gegard Mousasi vs Uriah Hall (Middleweight)
For the second time in little over a year Gegard Mousasi will face off with Uriah Hall in what is a hastily-assembled main event to cover the loss of the originally scheduled featured bout between Gunnar Nelson and Dong Hyun Kim.
Since their first meeting in Japan in September of last year, a fight which Hall won with a spectacular second round come-from-behind TKO victory, the two fighters have had contrasting fortunes inside the octagon. Mousasi has won three straight since the bout in Saitama, climbing the ladder towards title contention in the talent-rich middleweight division. Hall, meanwhile, has failed to build on what was easily the biggest win of his career last year and has dropped two straight to Derek Brunson and Robert Whittaker.
What a difference a year can make in mixed martial arts. If last year's loss was the low-point of Mousasi's UFC tenure to date, he is now the one coming into the rematch with a real sense of momentum behind him while Hall, whose victory in their first fight was as eye-catching as it was brutal, finds himself with his back to the wall knowing that a third successive loss here could see him delivered with his UFC pink slip.
The Pick: Mousasi seems like a different fighter since the loss to Uriah Hall a year ago. He has long been considered one of the more difficult puzzles to solve in the middleweight division but now that the Dutchman is on the verge of title contention, he has become an even more dangerous fighter. Hall is one of the more unpredictable fighters in the UFC, capable of ending a contest anytime with his array of technically sound spinning attacks but don't expect Mousasi to give his opponent any room to get them going. Look for Mousasi to employ a grappling-heavy game plan and submit his opponent in round two after a long spell of dominance on the ground.
Ross Pearson vs Stevie Ray (Lightweight)
Bragging rights are up for grabs here between two of the UK's top lightweights as near eight-year UFC veteran Ross Pearson takes on Scotland's best 155 pounder in Stevie Ray. James Krause was initially lined up opposite Pearson but when injury ruled him out of contention, the UFC called upon Ray and what we're left with is an arguably more entertaining local market clash.
For the most part, you know what you're going to get with Ross Pearson. The Englishman has picked up wins over the likes of Gray Maynard, Paul Felder and Chad Laprise in his UFC career so far but has never put together a run which has led him towards top contendership at lightweight and comes into Saturday night on the back of defeats to Jorge Masvidal (at welterweight) and Will Brooks.
Stevie Ray, the former Cage Warriors lightweight champion, hasn't quite fought the same level of talent as Pearson but, despite a loss in his last outing against Alan Patrick, he has generally looked to be a solid prospect in the lightweight division since making the jump from Europe's top promotion.
The Pick: For Stevie Ray to be successful in Belfast he needs to restrict the amount of damage that Pearson is capable of with his technical kickboxing. He will attempt to push Pearson up against the cage whenever he can, as well as employing a sharp counter game when Pearson begins to throw with more abandon as the fight goes on. Ray by decision.
Timothy Johnson vs Alexander Volkov (Heavyweight)
The two heavyweights have a combined total of 23 knockout wins between them so don't be surprised if this one doesn't last too long.
The UFC heavyweight division is crying out for some new contenders to shake up the old guard who have dominated the upper reaches of the official rankings for years now and the winner of the clash between Johnson and Volkov could well find themselves with a high profile bout in their immediate future with an impressive performance here.
Johnson has been solid, if unspectacular, thus far in his UFC journey. He has wins over Shamil Abdurakhimov and Marcin Tybura, with a unanimous decision loss to Jared Rosholt in between on his UFC resumé so far but even though he's cracked the official rankings (he's ranked #15) there is still plenty of work ahead if he is to emerge as a realistic challenger to the big dogs at heavyweight. Volkov, despite making his UFC debut, is the more experienced fighter and has competed against Cheick Kongo and Vitaly Minakov in Bellator, though he did lose both of those bouts.
The Pick: This could either be a really fun finish, or a long drawn out decision. Unfortunately we're picking the latter. Tony Johnson on points.
Artem Lobov vs Teruto Ishihara (Featherweight)
Expect fireworks with these two. Both Lobov and Ishihara are exciting fighters who always looking for the knockout, even sometimes to the detriment of their own personal safety.
Lobov's mixed martial arts career has been defined by a stubborn unwillingness to back down from any challenge and a belief that he can end any fight, against any opponent, with one shot.
Ishihara operates with a similar philosophy. The Japanese is a southpaw, blessed with a fleet of foot that perplexes his opponents and the ability to find his opponent's jaw from a multitude of angles but for Lobov, this is something that he sees every day. There is no better training partner to prepare for a fighter like Ishihara than with someone who has perfected the style he operates under than Conor McGregor and it's the countless hours that Lobov has spent on the mats at SBG Ireland with the double champion which should pay dividends in Belfast.
The Pick: This will be a crowd-friendly, back and forth contest between two of the featherweight division's more exciting fighters. Lobov possesses concussive power in his hands and will look to unleash his counters whenever Ishihara attacks. For Ishihara to be successful, he will have to manage range expertly throughout the 15 minutes but the odds of him doing so without taking damage get increasingly prohibitive as the fight progresses. The hometown element, familiarity with the area and the wave of success his gym is currently operating under should be enough for Lobov to win via TKO in the third.
Selected Undercard Fights:
Magnus Cedenblad vs Jack Marshman (Middleweight)
A clash between two of Europe's finest middleweights. At 6 foot 3 in. tall, Magnus Cedenblad is a tricky proposition to figure out but that's exactly what Welshman Jack Marshman has been tasked with attempting to do on his UFC debut. The Swede has won four in a row in the UFC and will be confident that he has enough about him to see off the challenge of the former Cage Warriors champion.
The Pick: Cedenblad by submission
Kyoji Horiguchi vs Ali Bagautinov (Flyweight)
Two former top contenders at 125 pounds battle it out for the chance to get one more step closer to flyweight king Demetrious Johnson. Watching Horiguchi's impressive performance in Rotterdam last May against the always game Neil Seery made one wonder if the UFC handed the ultra-tricky Japanese his title shot against Johnson a bit too early, as his performance on that night suggested that he might well be the type of fighter who could finally give 'Mighty Mouse' a realistic challenge.
Bagautinov holds a win over John Lineker but then was soundly defeated by both Johnson and Joseph Benavidez in successive bouts. A win for the Russian here is imperative if he is to hold any ambitions of getting back to the top of the mountain in the flyweight division.
The Pick: Horiguchi by TKO
Charlie Ward vs Abdul Razak Alhassan (Welterweight)
At UFC Belfast, Charlie Ward becomes the latest of John Kavanagh's students to make his octagon debut. Despite his official fight record being relatively sparse, Ward has long been considered one of the top Irish prospects at 170 pounds. Ward is an immensely powerful welterweight capable of doling out punishment with either hand, while his pressure grappling against the cage coupled with effective dirty boxing is a weapon which can be used to tire out even the most conditioned of opponents.
Alhassan, meanwhile, makes his UFC debut after six successive first round finishes – none of which went past 90 seconds on the clock.
The Pick: Alhassan will be dangerous early but the longer the fight goes on, the more confident Ward will become. The pick is Charlie Ward by decision.
Comments
comments