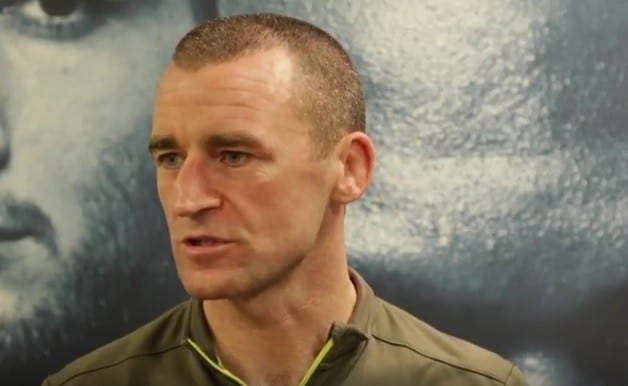 What was supposed to be fairy tale ending to Neil Seery's mixed martial arts career has turned into something quite the opposite.
Seery learned on Friday morning that his scheduled flyweight bout with Ian McCall had been pulled from the card, owing to an illness suffered by McCall. The contest was intended to be the final fight of Seery's career but news of the cancellation has prompted the Team Ryano fighter to prolong his career that bit longer so he can have one final farewell in the Octagon.
The UFC are slated to return to London in March of next year in what would seem like a good candidate for a potential rescheduling of the Seery vs. McCall fight but this is small consolation to the Irishman.
"I thought I was going in to stand on the scales when I got the bad news", Seery said to Mike Bohn of MMAJunkie.com. "First and foremost, I hope Ian McCall is healthy. I know he's in the hospital at the minute. I hope everything is alright with him, that's the most important thing here.
"It's sort of a kick in the bollox to say the fight's off but the safety of the fighters in the main thing here."
Fuck all else matters once @Unclecreepymma is alright we can always do it again get healthy pal 👊🇮🇪

— Neil 2 Tap Seery (@NeilSeeryMMA) November 18, 2016
Mutual respect has existed between both Seery and McCall since they met during the UFC Dublin fight week in July 2014. Seery sought out a bout with McCall as his final UFC date, while McCall – who has been the victim of two bout cancellations of his own in recent months – welcomed the fight, given Seery's reputation for always showing up and putting on exciting fights.
What a cruel twist of fate for the fight to cancelled just hours before the first bell was due to ring.
"I nearly burst out crying to tell you the truth. But, as I said, there's nothing I can do. Me giving out about it and whinging and crying isn't going to change the fact that I'm not fighting tomorrow."
The consolation, for fans of Neil Seery at least, is that he has already decided that we will see him one more time in the Octagon.
"Don't think I'm going to go out like this. I had a lot of support coming up from Dublin. I had a fantastic training camp. I felt really good, I made the 126 [weight limit] like I always do.
"It would have been nice to go out and fight Ian McCall. I was looking forward to fighting him, he's a fantastic fighter. But what can you do? No matter what I say it's not going to change a thing."
This isn't the first time that Seery has been the victim of the late withdrawal of an opponent. Back in December 2013 when Seery was the Cage Warriors Flyweight champion, a bout with former UFC fighter Ulysses Gomez was shelved the day prior after issues emerged with Gomez's weight cut.
"I'm disgusted, really. I don't even know if I'm going to go to the show. It happened to me before in a previous promotion, it's heartbreaking … watching everyone else do their work. I felt really confident coming into this but that's sort of wasted now. We'll see what happens."
The UFC have confirmed that Seery will receive his show money for the fight.
Comments
comments